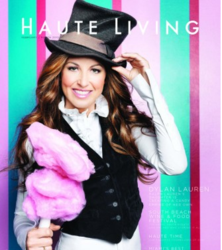 To me, candy is art. —Dylan Lauren
Miami, Fla. (PRWEB) February 21, 2013
Just in time for the Miami opening of Dylan's Candy Bar, Dylan Lauren sat down with Haute Living Miami to talk about her sweet business empire, and the men behind her, namely her father, Ralph Lauren, and her husband, Paul Arrouet.
"He said to me, 'If you're going to do it, do it big,'" Dylan Lauren said of getting business advice from her father, Ralph Lauren.
She certainly is doing it big, with locations in New York, East Hampton, Los Angeles, Houston and now Miami. "To me, candy is art," she says.
Also in this issue is a one-on-one interview of the Food Network South Beach Wine & Food Festival Founder and Director Lee Schrager, and a guide to festival headliner's Miami Restaurants. Also read a "Day in the Life of Nobu Matsuhisa" and an interview with Anna Boiardi, who has a new cookbook, cookware line and a desire to let everyone know the culinary history behind the famous Chef Boyardee.
Read the Full Issue Online Here.
About HauteLiving.com
The Haute Living website is the premier go-to for information on all things Haute around the world. With pages dedicated to 8 cosmopolitan cities, editors update readers on daily news, exclusive events, exciting openings and product releases. The Haute Living group also extends to niche luxury markets, with news about everything Haute, from yachts to interior design. The acclaimed Haute Time leads the group, providing luxury timepiece aficionados with product previews, exclusive interviews and more.
About the Haute Living Brand
Haute Living Magazine is a national luxury lifestyle magazine published in four markets—New York, Miami, Los Angeles, and San Francisco. Haute Living Magazine features the top entrepreneurs, businesspeople, and notables in each market. Haute Living Magazine also highlights the best in luxury consumer goods, culinary hot spots and events. Haute Living recently redesigned its website and re-launched its Haute Time and Haute 100 websites for state-of-the-art experiences.