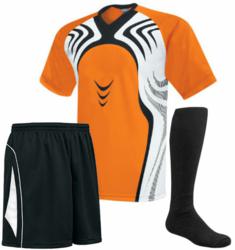 Summerfield, North Carolina (PRWEB) February 22, 2013
The Bethany Community Soccer League is gearing up for it's Spring 2013 season! While this is the first time the league will offer a spring season, the committee members are seasoned professionals at running a league. For over 12 years the Bethany Community Soccer League has been in existence and serving the greater Bethany area. The Bethany area is made up of several towns in Guilford and Rockingham counties of North Carolina.
This year the league has come up with several new and exciting ideas to make their soccer league more exciting. For starters most of the local soccer leagues give t-shirts and make the parents go find shorts and socks for the rest of the uniform. That is not the case at the Bethany Soccer League, this little league has purchased real jerseys, shorts, socks and mouth guards for all of the kids playing. So if you're 4 or 14 you get a full professional uniform for your small $45 registration fee. Not to mention the league is using the same Adidas F-50 game balls as the pros use!
Another exciting idea we heard about from a league committee member is that the league is going to be having an all league banquet after the season's championship tournament. The day of the tournament will be filled with music, exciting vendors great food and awesome competition. But after the tournament is over all of the players, coaches, league members, officials and guests will go into the Bethany cafeteria for an all league Pizza Party and award banquet. All kids that play will receive a participation trophy, coaches will give out special coaches awards, the tournament champions will be honored with their trophies and a special trophy given to only one player by the President of the league for the child that best embodies the values and sportsmanship of the league.
One committee member said "We are lucky to have a group of selfless individuals working so very hard for the children of this area!" While the committee has chosen to stay out of the spotlight and promote the kids, parents and sponsors that make this league possible are all doing a great job for the kids!
The tryouts are March 3, 2013 at 2:00 PM at the Bethany Elementary School on the Reidsville / Summerfield, NC border. Go to http://www.bethanysoccerleague.com for more information.