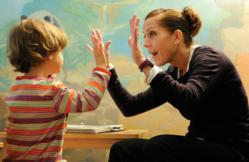 The number of special education teachers is expected to increase by 17% through 2018.
Huntersville, NC (PRWEB) February 21, 2013
According to the Centers for Disease Control and Prevention approximately one in 88 children in the United States has autism or a related disorder. This overall increase of about 25 percent since the last analysis in 2006 and a near-doubling of the rate reported in 2002. This is the highest estimate to date resulting in concerns and questions on how the condition is diagnosed and how it properly treated with the help of educated therapists, caregivers, teachers and others who are trained to help children with autism.
In the past, scientists have estimated that 90 percent of autism was genetic and 10 percent reflected environmental factors. A more recent study in 2011 done at Stanford University established that genetics account for 38 percent of autism risk and environmental factors 62 percent.
Exactly what those factors are, however, still remain unknown. Research shows factors can be anything from what the mother of a child with autism ate during her pregnancy to what cleaners were in the house and what pollutants were in the dust.
Regardless of all the unanswered questions, autism is a common condition. More and more children are in need autistic services than ever before to identify the disorder at early ages and work with families to help their children transition to adulthood.
With a need for better diagnoses, broader diagnostic criteria and higher autism awareness, the number of special education teachers is expected to increase by 17% through 2018, which is faster than the average growth rate for all occupations, according to the U.S. Bureau of Labor Statistics. With this rapid growth rate school districts are often finding themselves understaffed in the special education department while recent graduates are up against state wide compensation and benefits, looking to get the best opportunities that set themselves up for a good financial future.
ProvidaStaff, LLC, a leader in providing comprehensive healthcare therapy services in education and medical settings nationwide, helps identify and match special education providers with school settings across the country. In addition to schools, they work with rehabs, hospitals, outpatient clinics, nursing homes, and early intervention programs and are currently offering numerous career opportunities through national networks throughout the United States. Founded in 2007, ProvidaStaff, LLC started with a vision to increase the quality of life to individuals in need of healthcare services and continues that effort today.
Call ProvidaStaff today at 1-866-75-STAFF to discuss your future therapy career and needs.