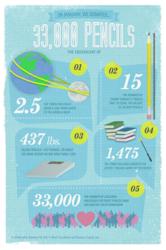 This donation by Business Supply will help tens of thousands of students in Charlotte and surrounding counties finish their school year as strong as they started it.--Sarah Porter, Classroom Central
Charlott, NC (PRWEB) February 21, 2013
The Kids In Need Foundation, a national, non-profit organization dedicated to providing free school supplies to economically disadvantaged school children and under-funded teachers, and Business Supply, a national supplier of office supplies kicked off a national school supply donation program in Charlotte Thursday at Classroom Central. Classroom Central equips Charlotte area students living in poverty to effectively learn by collecting and distributing free school supplies.
Under this national donation program, Business Supply will make a donation of key school supplies for each transaction on their website – http://www.business-supply.com. Key supplies include pencils, paper, scissors, glue, markers and crayons. Business Supply will rotate among the type of supplies donated each month.
And each month products will be delivered to one of Kids in Need's 29 Resource Centers across the country where teachers from low-income schools can obtain free school supplies for their students. Classroom Central in Charlotte is the first center to receive donations under this program with the arrival of 33,000 pencils Thursday.
"The timing of this donation is perfect," says Sarah Porter, director of communications for Classroom Central. "We get lots of donations at the beginning of the school year, but those supplies are often used up by the start of the second semester. This donation by Business Supply will help tens of thousands of students in Charlotte and surrounding counties finish their school year as strong as they started it."
Functioning as a free store for teachers, Classroom Central serves as an invaluable resource for area students and classrooms. Classroom Central serves high-poverty schools in six school districts: Charlotte-Mecklenburg, Gaston, Iredell-Statesville, Union, Kannapolis and Lancaster. Teachers and other school personnel in qualifying schools "shop" for free school supplies throughout the academic year. All materials distributed are used to create inviting learning environments and to support student's academic and personal growth.
"The national Business Supply donation program we're kicking off today is special because it has no limit," said Dave Smith, executive director of the Kids In Need Foundation. "Business Supply is committed to making a donation of needed school supplies every time someone makes a purchase on their website – not just in 2013, but for years to come."
"Our goal is to provide nearly 450,000 school supply items to Kids In Need resource centers across the country this year," said Sean Godier, vice president of Business Supply. "As a working dad with two young children, I know how tight budgets are in this economy – for teachers and families. That's why we at Business Supply are so excited about this partnership. Together with the Kids In Need Foundation, we can help our students get the tools they need to succeed in 2013 and beyond."
"The donation program will allow us to help get school supplies to the students and teachers who need them the most," said Smith. "Consumers can feel good that a donation is being made every time they complete a transaction with Business Supply. The donation program with Business Supply will ensure more students nationwide have supplies. We believe children are our greatest resource, and having school supplies give them the confidence and tools they need to thrive."
About Business Supply
Business Supply, founded in 1999 and headquartered in Cary, NC, is a leading online retailer of office supplies, office furniture, and cleaning and break room products for small-medium businesses and the home consumer. With more than 35,000 products featuring top brands such as Hon, Sanford and Avery-Dennison, the company ships from over 40 distribution centers, which results in 90% of orders being delivered the following day after placing an order. One of the oldest online office supply retailers, Business Supply has a long history of supporting charitable causes, including breast cancer research, and disabled American veterans' groups. Business Supply can be found online at http://www.business-supply.com .
About Classroom Central
Since Classroom Central's inception in 2002, it has served the education and creative needs of the children of the Southern Piedmont by providing students with donated merchandise through a free store for teachers. Classroom Central's mission is to equip students living in poverty to effectively learn through the collection and distribution of free school supplies. For more information, visit http://www.classroomcentral.org.
About the Kids In Need Foundation
The Kids In Need Foundation is a national 501(c)(3) charitable organization with offices in Dayton, Ohio, and Minneapolis, Minnesota. Founded in 1995, the Foundation's mission is to ensure that every child is prepared to learn and succeed by providing free school supplies nationally to students most in need. The Kids In Need National Network of Resource Centers includes 29 facilities where teachers from low-income schools go to obtain free school supplies for their students. In addition, two Kids In Need Teacher Grant programs provide K-12 educators with funding to support innovative learning experiences for students. The Kids In Need Foundation has distributed $450 million in school supplies since its founding, directly benefiting 2.4 million students and 100,000 teachers annually, and has awarded $1.3 million in grants to teachers. Kids In Need has received Charity Navigator's highest four-star rating for four consecutive years, indicating that it operates in a fiscally responsible way and outperforms most other charities in America. For more information, visit http://www.kinf.org. Join Kids In Need Foundation on Twitter at twitter.com/kidsinneed and Facebook at facebook.com/kidsinneed.
###