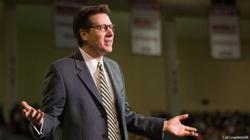 Lynchburg, Va. (PRWEB) February 20, 2013
Relationship expert Les Parrott told students at Liberty University's Convocation on Wednesday to "revolutionize" their relationships.
He was accompanied by his wife, Leslie. The Parrotts not only share similar names but also a passion for seeing others thrive in their relationships. They have co-authored several best-selling books, including "Saving Your Marriage Before it Starts" and "Real Relationships." The couple is adept at speaking to college students, having taught a course they developed, Relationships 101, at Seattle Pacific University for many years.
Les Parrott said it is important for young people to receive formal education on relationships, declaring that there are courses for just about everything else in college and relationships are such a vital part of life. He applauded Liberty for requiring all students to take a course, The Psychology of Relationships (Psych 150).
He also said that in many cases the only education some people receive on relationships is from their environment.
"The home you grew up in was your university of relationships," Les Parrott said. "You learn more about relationships from your home growing up than you'll learn from anything else the rest of your life — from seminars, class, or books, or anything else."
He referenced hypothetical "courses" people grow up taking in their childhood experiences, including "feelings you don't talk about in your family" or "advanced blame shifting and how to do it."
Les Parrott shared what he believes is the key to every relationship, which he always presents to his class on day one: "If you try to build a connection with another person before you have done the difficult task of getting whole on your own, all your relationships become an attempt to complete yourself."
He debunked the common misconception society often teaches that romantic relationships should fill a missing void and "complete you," acknowledging that this truth may be "a tough pill to swallow."
"Our compulsion for completion is not met in another relationship like this; it's met in a relationship with the Heavenly Father," Les Parrott said.
He said relationships can only be as healthy we are and offered three ways to ensure this: 1) understand our profound significance in God's eyes, 2) have an unswerving authenticity with oneself, and 3) recognize people's needs through self-giving and sacrificial love.
The Parrotts have a dynamic career as counselors and hold the title of the first statewide Marriage Ambassadors appointed by the governor of Oklahoma. Authorities have called on the Parrotts for on-site support in the aftermath of 9/11 and Chernobyl. They have also been invited to assist soldiers with re-entry into family life upon returning from deployment.
About Liberty University Convocation:
Convocation is North America's largest weekly gathering of Christian students, and each year it plays host to more than 80 guest speakers of national significance from every sphere of society. It is held within the Vines Center at Liberty University during each semester at 10:00 AM on Monday, Wednesday, and Friday unless otherwise noted.
About Liberty University:
Liberty University, located in Lynchburg, Va., is the world's largest Christian university. Nearly 100,000 students attend classes on its 6,800-acre residential campus and study in its thriving online education program.