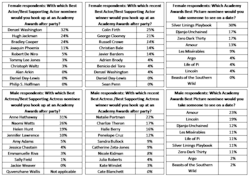 Our members are living their own red carpet fantasy through their affairs as they seek to escape from the unhappiness of humdrum home lives
London, UK (PRWEB UK) 21 February 2013
According to the survey out today Oscar hopefuls Denzel Washington and Anne Hathaway are winners of the Adultery Academy Awards for the most desirable nominees cheaters would like to take home for a night of illicit passion.
Victoria Milan, the leading European online dating site specifically designed for married and attached adults seeking discreet love, surveyed its members about which Academy Award nominee they would choose for a secret affair. The survey results, collected over a 10 day period show that 32% of cheating women would choose Denzel Washington as their dream secret date. For men, Anne Hathaway topped the poll (31%). The results are especially notable given the high volume of participants: more than 5000 respondents completed the survey.
Just missing out on the female cheaters' statuette were Hugh Jackman and Bradley Cooper in joint second place with 24% of the vote each. Male members elected Naomi Watts second with 26% and Helen Hunt third with 19% of the vote.
Victoria Milan UK spokesperson Paul Shurey comments: 'Our members are living their own red carpet fantasy through their affairs as they seek to escape from the unhappiness of humdrum home lives. Most do not want a divorce. However unlike many unhappy husbands and wives, they want to do more than just fantasize about being with someone else whilst routinely making love to their spouses. They've embarked on parallel relationships in which they fulfill their wildest hedonistic fantasies and desires.'
Victoria Milan also asked its members which of this year's nine Best Picture nominees they would like to take someone on a date to see. Male respondents chose Amour (23%) ahead of Lincoln (19%) and Djanjo Unchained (12%), while female respondents preferred Silver Linings Playbook (30%) followed by Djanjo Unchained (17%) and Zero Dark Thirty (17%).
The full results of the Victoria Milan member survey are listed below.
About VictoriaMilan.co.uk – http://www.victoriamilan.co.uk
VictoriaMilan.co.uk is UK controversial infidelity site whose tagline is "Relive the passion – find your affair". The premiere online dating site is specifically designed for married and otherwise attached adults seeking a discreet flirt or real life affair.
Founded in October 2010 by happily married Sigurd Vedal, Victoria Milan has currently more than 2.0 million members in 19 countries.
Media Contact
paola.mirone(at)digisecmedia(dot)com
Tel: +389 5999 132