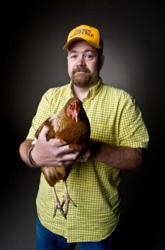 (PRWEB) February 21, 2013
The U.S. Department of Agriculture's is hosting a webinar, Thursday, February 28 at 2 p.m. EST offering information to new and veteran backyard poultry owners who are thinking about acquiring baby chicks and raising chickens.
The hour-long, online presentation, "Growing Chicks into Healthy Chickens: Getting Ready for Spring," will be hosted by three poultry experts. They will share information and answer questions about buying and raising healthy poultry and how to keep them safe from disease and predators. To guarantee a place at the webinar, interested individuals may register now at https://healthychickens.webex.com and then enter the password: Chickens. This is being provided with no cost to the registrants.
The webinar hosts are: Andy Schneider, also known as "The Chicken Whisperer®," a national radio personality who serves as the USDA's Biosecurity For Birds campaign spokesperson; Dr. Claudia Dunkley, a poultry scientist at the University of Georgia and Dr. Martin Smeltzer, a USDA poultry veterinarian.
This event is part of Bird Health Awareness Week (BHAW), an annual observance promoted by the USDA's Biosecurity For Birds campaign, that helps support healthy practices for raising backyard birds to prevent them from catching diseases such as Avian Influenza and Exotic Newcastle Disease. This year BHAW is being held from February 24 through March 2.
Since spring ushers in chicks' season, the time when baby chicks and other baby birds begin hatching from their shells, the 2013 Bird Health Awareness Week will focus on these new additions to the country's backyard flocks. Bird lovers across the U.S. are invited to celebrate the week in their own way and let the USDA know what they are doing.
For more information about Biosecurity For Birds, please visit the Biosecurity For Birds website, http://healthybirds.aphis.usda.gov.
Media representatives may contact Joelle Hayden at joelle(dot)r(dot)hayden(at)aphis(dot)usda(dot)gov (301) 851-4040 or Pam Goldstein at pgoldstein(at)diversitymc(dot)com 973-377-0300, Ext. 14.