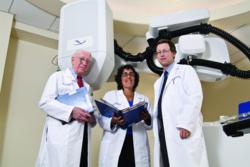 We realized early on that, especially with the number of unique cancer cases we were treating, we owed it to our patients and their referring doctors to let them know what our experience was and how we're doing. – Dr. Rachelle Lanciano
HAVERTOWN, Pa. (PRWEB) February 21, 2013
Philadelphia CyberKnife physicians are set this week to present innovative research findings demonstrating the effectiveness of stereotactic body radiation therapy for treating primary and recurrent lung cancer.
Two studies will be presented Feb. 22 at the Radiosurgery Society's 2013 SRS/SBRT Scientific Meeting in California. These are the latest studies from Philadelphia CyberKnife, which has carved a niche for trailblazing clinical research focused on stereotactic body radiation therapy. CyberKnife® is a robotic technology that provides stereotactic body radiation therapy, or SBRT, a noninvasive method of treating tumors with very precise, high-dose radiation beams in five or fewer procedures.
The first study focused on lung cancer patients who were previously treated and had tumors grow back. Such cases can be difficult, doctors say, because patients typically have undergone radiation therapy previously and are near the maximum amount of radiation medically allowed. These patients typically have very limited options with little prior research on SBRT's effectiveness on recurring tumors reported.
Dr. Rachelle Lanciano, chief of radiation oncology at Delaware County Memorial Hospital, says these patients had limited options before CyberKnife technology. "We're now able to offer patients extended survival with good quality of life by managing these patients collaboratively with medical oncologists," Dr. Lanciano says.
In a second study, CyberKnife treatment destroyed tumors in all but three of the 90 patients with primary lung cancer.
"The results were so extraordinary, we believe the study shows how the medical community needs to find more ways to incorporate stereotactic body radiation therapy in the regular treatment of lung cancer patients," says Dr. John Lamond, Philadelphia CyberKnife's associate medical director, who authored the second study.
Philadelphia CyberKnife is part of Delaware County Memorial Hospital in Drexel Hill, Pa. Since opening in 2006 through a partnership with the hospital, Philadelphia CyberKnife radiation oncologists and medical physicists have become regular faces at radiation therapy conferences, presenting a growing number of studies regarding treatment of lung, liver and prostate cancers.
"We were the first CyberKnife center in the region, and when we opened there was little data on radiation dosing," says Dr. Lanciano, who co-authored the first lung study. "We realized early on that, especially with the number of unique cancer cases we were treating, we owed it to our patients and their referring doctors to let them know what our experience was and how we're doing."
She and other staff members credit Dr. Luther Brady, the center's founder, medical director and a pioneer of radiation oncology, for making clinical research a priority. Dr. Brady, professor and chairman emeritus of radiation oncology at Drexel University, established a formal relationship to enable residents to rotate through Philadelphia CyberKnife. In addition to getting hands-on experience, residents offer crucial assistance with the center's research efforts and gain opportunities to co-author and present research findings at major conferences.
"When we started out, our treatment was in large part relying on other centers' data," says Dr. Lamond. "We've treated almost 2,000 patients, so we're able to publish our own data and point to our own results."
Additionally, Dr. Jun Yang, Ph.D., Philadelphia CyberKnife's chief medical physicist, has served as lead author on other studies involving technical aspects of SBRT. His most recent was published online in late 2012 by the International Journal of Radiation Oncology, also known as the Red Journal and one of the world's most respected sources of research in the field. Dr. Yang's study is due in print later this spring.
His research focused on the way tumors and healthy tissue react to radiation, which requires doctors to carefully plan radiation doses and time intervals over the course of treatment. Long-held standards call for spreading the radiation dose throughout a long course of treatment to protect healthy tissue exposed to radiation.
Dr. Yang's findings documented how SBRT affects tumors and healthy tissue differently than traditional radiation therapy methods. Essentially, he explained the physics of how higher radiation doses could be delivered to the tumor while the healthy tissue received significantly lower exposure from stereotactic body radiation therapy.
"This scientific data is essential as the underlying reason for why retreatments are possible with CyberKnife," Dr. Yang says. "With conventional radiation therapy, lower doses are administered over time, but we found with SBRT, pinpoint delivery of higher doses delivers better results."
In a prostate cancer study published last fall, Philadelphia CyberKnife made a similar kind of discovery. Cancerous cells in the prostate gland are somewhat unique in that they tend to grow more slowly than other kinds of tumors. Dr. Yang says that when comparing low- and high-dose regimens, the center found a quicker course of treatment with higher radiation doses worked better, which is contrary to conventional radiation therapy.
The center is currently finalizing studies on brain and gynecological cancers, while others are in earlier stages of research.
Philadelphia CyberKnife is a service of Delaware County Memorial Hospital, a member of the Crozer-Keystone Health System, and is located off the hospital's main campus at 2010 West Chester Pike in Havertown, Penn. For more information, call (610) 446-6850.