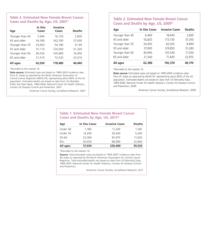 ...our younger women, especially those currently using birth control drugs, are at higher risk for invasive breast cancer than earlier believed," said, Susan Wadia-Ells, author of the new ebook, Birth Control Drugs: Learn the Terrible Truth
(PRWEB) February 26, 2013
Recent American Cancer Society estimates show that new invasive breast cancer cases, in women under 45 years old, increased from 16,150 to 25,600 cases between 2007 and 2011, with census figures showing no net change in this age population. The Cancer Society's estimates since 2007, translates into a startling 11.8% annual increase averaged over five years, according to the National Breast Cancer Prevention Project, the first group to identify and publish this startling trend. This is the same age group most likely to use birth control drugs,
The National Prevention Project's statistician, Jacquie Ostrom, a former mathematics college professor, described the arithmetic used to uncover this annual increase, as "probably a 6th or 7th grade math problem, similar to calculating an average annual interest rate change over a five year period."
Meanwhile, Austrian geneticist, Josef Penninger, just received a $7.4 million Innovator Award from the U.S. Department of Defense's Breast Cancer Research Program, for his 2010 discovery of the biological mechanism that shows how progestin chemicals in birth control drugs are a key element in some premenopausal invasive breast cancer.
"U.S. cancer agencies need to get a handle on the actual number of women being diagnosed by invasive breast cancers each year. If you use the American Cancer Society's estimates and believe Penninger's recent research, these numbers indicate that our younger women, especially those currently using birth control drugs, are at higher risk for invasive breast cancer than earlier believed," said, Susan Wadia-Ells, a pro-choice advocate, founding director of the small non-profit National Breast Cancer Prevention Project, and author of the new ebook, Birth Control Drugs: Learn the Terrible Truth, Volume One in the Busting Breast Cancer Ebook Series, that describes both findings.
National breast cancer groups are stoic about having to operate without hard data to guide them, year after year. "We use the figure of 10 to 15 percent of all invasive breast cancer cases, but getting the actual number of younger women affected by triple negative each year, is a big area of frustration," said Elizabeth Woolfe, former executive director of the Triple Negative Breast Cancer Foundation, that has raised more than a million dollars for research in search of a cure for this aggressive type of breast cancer that disproportionally affects younger women. ABC's Robin Roberts and Fox News Correspondent, Jennifer Griffin, each faced a triple negative diagnosis within the past six years, while in their 40's.
"We think we may be looking at 10,000 or 12,000 a year, depending on what data source you look at," said Stacy Lewis, Chief Program Officer, at the Young Survival Coalition, referring to the number of women under 40 in the U.S., diagnosed with some type of invasive breast cancer in any given year.
Staff at the CDC's Advisory Committee on Breast Cancer in Young Women said that between 1998 and 2007 the rate of breast cancer in women under 45 had been fairly stable, but staff did not have more recent information, nor hard data to back up their outdated information.
"For those of us completely focused on stopping breast cancer before it starts, it's especially hard to set prevention goals or define success when the government offers us no annual, no current, and no transparent national statistics; breast cancer prevention groups have no way to objectively measure progress," said Wadia-Ells.
According to Wadia-Ells' new ebook, American women of childbearing age make up only five percent of all childbearing-aged women worldwide, but according to market research reports, the 12 million women in the U.S. who currently use birth control drugs, consume more than a quarter of all contraceptive drugs manufactured worldwide.
Given the Cancer Society's current breast cancer estimates, combined with the Austrian's award-winning research on how and why birth control drugs stimulate breast cancer, Wadia-Ells believes it is important for American women to align with European women, who more often choose safer and more effective contraceptive methods such as hormone–free IUDs or tubal ligation.
The Interagency Report on Breast Cancer and the Environment: Prioritizing Prevention, released last week, does not include any current, actual or comparative annual statistics on breast cancer by age groups, nor does it recommend that women be educated about the known cancer threats posed by birth control drugs, or the existence of safer alternative contraceptives. "This prevention report falls short in some critical areas," said Wadia-Ells.
###
The National Breast Cancer Prevention Project is a 5-year-old non-profit dedicated to translating international research on the known, probable and possible causes of invasive breast cancer into everyday language, and to offering women significant, easy, inexpensive, healthy, evidence-based and logical lifestyle changes that can help individuals stop breast cancer before it can start. http://www.bustingbreastcancer.org
Susan Wadia-Ells is founding director of the National Breast Cancer Prevention Project, a former corporate affirmative action manager with a Fortune 200 company, and a long-time pro-choice activist. Her most recent book, Birth Control Drugs: Learn the Terrible Truth, Volume 1 of the Busting Breast Cancer: 7 Simple Steps Ebook Series, is available on Amazon Kindle, Barnes & Noble Nook, iPad, Kobo and other e-reader platforms. http://www.thetruthaboutbreastcancer.com