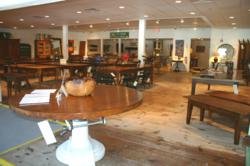 "I am asked all the time where I find my materials. Since I've been in this business nearly 40 years, they seem to find me! It's a universe thing." Steve Staples
Wrentham, Massachusetts (PRWEB) February 26, 2013
Stephen Staples (furniture designer and craftsman) and his artisans have been very busy creating some breathtaking, unique works of furniture art from reclaimed antique wood, salvaged antique metal parts and so much more! They are also creating small end tables/bedside tables and coffee tables from left over floor boards from circa 1700's and 1800's New England homesteads.
Over the past few years the "Industrial Look" has become of great interest in home decor and Staples has excelled in reclaiming all kinds of great factory treasures, including foundry molds, that are now re-purposed into very unique kitchen islands, sideboards, various size tables and home accessories.
The Staples are interested in meeting with artists in other mediums for a potential show at the gallery or to rent space within the gallery. The first artist reception will be March 2nd from 6:00 to 9:00 p.m. featuring local artist Sheryl LaFrance of BIG BAD MOON ART. Open to the public.
Company History:
Staples Cabinet Makers Inc. produces eclectic unique, timeless, environmentally-friendly furniture art crafted from 200 and 300 year-old reclaimed wood Co-owner, master craftsman and furniture maker Stephen C. Staples has spent nearly four decades studying his medium, refining and perfecting his finishes, and mastering his craft. Today he produces some of the most unique and sought-after furniture art in the country that is now sold through his new showroom at New England Artisan Gallery in Wrentham, MA.
Staples finds inspiration in old growth lumber that he turns into handcrafted tables, hutches, kitchen islands, coffee tables, farm tables, art pieces, and custom-design pieces. Staples' reclaimed wood originates from razed barns, mills and homes primarily throughout New England. Virgin old growth lumber is the finest wood available to craftsmen and artisans—the wood is dense, heavy, strong and beautifully patinaed. However, the protection of live standing old growth trees in the United States makes obtaining this wood commercially difficult and often impossible. Staples discovered he could breathe new life into each magnificent reclaimed board through its transformation into his one-of-a-kind tables and creative art furniture.
The wood that Staples reclaims offers not only incomparable beauty, but each board holds its own story having survived the rigors of time. The heirloom quality furniture that Staples creates adds a lasting legacy to this historic wood. Each of his creations is branded, paper labeled, signed and dated by Stephen and then he adds his unique pinwheel signet mark on the surface, much like an artist signs his/her painting. Visit the website at http://www.neartisangallery.com.
New England Artisan Gallery is open Tuesdays through Saturdays 10:00 to 6:00 and Sundays 12:00 to 5:00.