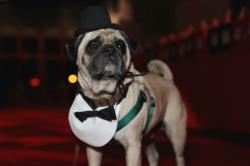 "It's not often that you have the opportunity to attend a ball with your dog, and that's part of what makes Bark & Whine such a fun and unique event." Jason Walthall, SF SPCA co-president
San Francisco, CA (PRWEB) February 21, 2013
Dress in your red carpet finest and get ready to dance the night away at the 17th Annual Bark & Whine Ball, March 20th, 2013, at 6:30 p.m. at the Fort Mason Center, Festival Pavilion in San Francisco. The event is presented by Critter Lovers at Work (CLAW), an all-volunteer nonprofit with the mission to support the San Francisco SPCA, and all proceeds will benefit homeless animals.
This spectacular event will include dinner, drinks, dancing, and a live and silent auction. Guests are encouraged to attend with their favorite well-behaved canine friends. Last year's event drew more than 400 guests and 200 dogs.
"It's not often that you have the opportunity to attend a ball with your dog, and that's part of what makes Bark & Whine such a fun and unique event," said Jason Walthall, SF SPCA co-president. "Join us for a magical evening and help homeless animals get the care they deserve."
"We are delighted to once again be hosting the Bark & Whine Ball in support of the Cinderella Fund of the San Francisco SPCA," said CLAW president Judy Ranzer. "This is a great opportunity to enjoy a special evening on the town while supporting a wonderful organization."
Proceeds from the evening will benefit the Cinderella Fund of the SF SPCA, which transforms the lives of the neediest animals at the shelter. The fund benefits those who are not only homeless, also sick or injured and in need of urgent and extraordinary medical care.
CLAW was founded in 1987 to generate support for and raise awareness of the SF SPCA. CLAW produces a variety of fundraising events that benefit the Cinderella Fund and to date has raised over $1.1M.
Tickets for Bark & Whine 2013 are now available online at http://www.clawsf.org or by phone at 415-522-3535. General admission begins at $150 per person and $20 per dog.
For information about patron tickets, please call CLAW at 415-522-3535.
For corporate sponsorship opportunities, please call Jamie Holt at 415-522-3548.
Media interested in attending the 2013 Bark & Whine Ball should contact Krista Maloney at 415-522-3507.
The San Francisco SPCA
The San Francisco SPCA is an independent, community-supported, non-profit animal welfare organization dedicated to saving, protecting and providing immediate care for cats and dogs who are homeless, ill or in need of an advocate. The SF SPCA also works long-term to educate the community, reduce the number of unwanted kittens and puppies through spaying and neutering, and improve the quality of life for animals and their human companions. The organization does not receive government funding and is not affiliated with any national organization.
Support the San Francisco SPCA by adopting, donating, volunteering and becoming a client of the state-of-the-art veterinary hospital. The SF SPCA has volunteer opportunities to care for shelter dogs and cats, conduct adoption counseling, assist clients and veterinary staff, provide foster care, help with the Community Cats Program, and enrich the lives of people in the community through animal-assisted therapy.
For more information about San Francisco pet adoption, call the San Francisco SPCA at (415) 522-3500 or visit sfspca.org.