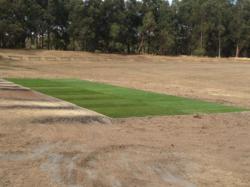 Melbourne, Australia (PRWEB) February 28, 2013
Since the introduction of "third generation" synthetic turf surfaces in the late 1990s and the adoption of granulated rubber infill's, concerns for the health and safety of players have been under review. The rubber infill, predominantly manufactured from reclaimed tyres, has raised interest over possible increases in radiant heat and associated heat-related illnesses. Despite the global increase in the use of 3G surfaces, little evidence exists on the surface temperatures experienced, the factors which contribute to the temperatures or the specific synthetic turf components that influence the surface temperatures.
A limitation of most of the heat studies conducted so far is that the synthetic surfaces were measured as a complete system making it difficult to discern whether the fibre, the infill or even the backing contributed more to the high surface temperature. To date, only one published study has measured different components of a 3G synthetic turf system.
Tuff Turf's commissioning of the University of Ballarat is a unique opportunity for Tuff Turf to have accurate and detailed information on how their products and turf systems behave within the Australian climate. The studies being conducted will be "the most technologically advanced of its kind" and "the first to look at the individual components of the entire turf systems within the Australian climatic conditions."
The Surface Research Group in the School of Health Sciences, University of Ballarat is one of the leading research groups in player-surfaces in Australia. The project investigators have substantial track records in undertaking high quality research projects; producing reports and peer-reviewed journal articles; and presentation of research findings to policy and practice audiences.
Project Director and Senior lecturer Dr Dara Twomey, is a leading researcher in the area of player-surface interactions, including both on natural and synthetic surfaces. In the past few years, Dr. Twomey has led a team which set guidelines for the use of synthetic surfaces for community Australian football and cricket in Australia. Dr. Twomey is currently a member of the Technical Advisory Committee for Synthetic Turf for the AFL.
With Dr. Twomey's guidance, the Surface Research Group aims to produce the first peer-reviewed results on aspects of the third generation synthetic turf that will:

Explain how ambient climate temperatures affect the surface temperature of Tuff Turf products.
Clarify the temperature differentials created on Tuff Turf products exposed to elemental factors including wind speed, humidity, and cloud cover.
Produce a component combination that will create the coolest possible synthetic turf surface conditions.
The research and accompanying construction for this comprehensive review of third generation synthetic turf and related Tuff Turf products is already underway at the University of Ballarat. Finalised reports are anticipated to enter the peer-review process by August 2013.