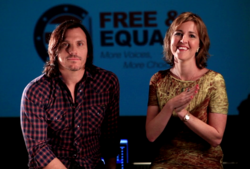 Chicago, IL (PRWEB) February 21, 2013
"If ever you can bring about revolutionary changes, two things would be required: young people would have to be involved and you would need music." – Dr. Ron Paul
Free & Equal is proud to announce that Golden State, an internationally recognized indie rock band whose music has been featured all over the world, including a recent performance of "All Roads Lead to Home" on American Idol, will be performing at the United We Stand Festival in Little Rock, Arkansas this Spring.
Golden States' powerful music includes the anthem "Bombs" which became an inspiration for many to support for Dr. Ron Paul's message to end the wars. "Bombs" shares the message that peaceful and united citizens have the power to cause monumental change, including ending the wars.
Golden State is the first of many honest musicians to step forward and guide the movement through powerful, heartfelt music. Free & Equal's mission is to unite and encourage honest musicians like Golden State and also honest leaders, authors, comedians, artists and more to create a strong, unified message of peace and prosperity.
During the podcast, James Grundler, lead singer of Golden State, points out that music can reach those who are disaffected and disheartened by politics: "We're not going to use a politician's name or use the word 'Congress' because all that does is limit you. But if you can make it more poetic more people can catch on and the message can be shared with more people." By using music, more people can be reached with the fundamental message of peace and prosperity, which stands above and apart from any specific politician.
This message is the Free & Equal message about an open, transparent world where power is not in the hands of special interests; a world where new solutions and ideals take precedence over the corrupt ways of the past. And in Golden State, that message has a powerful supporter.
The exact location and date for "United We Stand", is to be announced soon!