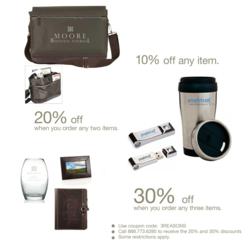 On average, owners of promotional products keep them for 5.8 months. Extended coverage is just one reason to use promotional products in your marketing. We're pleased to offer up to 30% off entire orders to provide our customers with yet another reason.
Aliso Viejo, CA (PRWEB) February 21, 2013
Branding Iron Studios today announced recently gathered industry data demonstrating the significant value that promotional products have in the marketing mix, and the extended exposure they provide in communicating a brand's message to a variety of audiences. The information was shared in Branding Iron Studios' Mark Their Minds! monthly newsletter.
To collaborate with the "3 Reasons why promotional products are a value for the marketing dollar", Branding Iron Studios also announced its 10-20-30 promotion. The promotion itself provides 3 additional reasons to use promotional items in the marketing mix. The program offers 10% off any single promotional item, 20% off an entire order when two items are ordered at the same time or 30% off an entire order when three items are ordered at the same time.
"Promotional products are becoming more and more popular with businesses as leaders realize the increased value they provide over other strategies in the marketing mix," said Suzanne Carrasco, CEO of Branding Iron Studios. "At BrandingIronStudios.com, we know the value of the marketing dollar and the importance of building your brand. Promotional products are a great vehicle for offering extended exposure for marketing messages."
3 reasons why promotional products are a value for the marketing dollar:
Stickiness Matters:  An advantage with promotional products is that just one item can deliver a message for a far longer time period than other forms of advertising.  On average, respondents from a recent industry report, indicate having a promotional item for 5.8 months.  Awards are typically held the longest at 7.6 months, and writing instruments for 5.1 months.  Arguably, promotional items may provide the most significant extended coverage than many other marketing channels.
Viral Works: Online viral media campaigns - campaigns that are forwarded and "spread", hence the "viral", to friends and colleagues - can sometimes be quite successful, especially in today's social media world.  But how about bringing that viral back to the real world.   The misconception that many promotional items end up in the trash, is clearly not the case.  In a recent study, 66% of promotional product recipients stated that when they receive a logo'ed item that they don't wish to keep; they give it to someone else.  And the gifted recipient is most likely a colleague, a friend, or someone in their social circle where the brand will continue to receive its intended exposure.
Recall Impacts: The latest data shows that on average, 87% of promotional  product owners recall the advertiser imprinted on the item received. 97% of outerwear and apparel recipients remember the advertiser. How's that for brand recall? Furthermore, a journal ad will cost on average $1.80 to reach a target customer, where the average cost when using promotional products is around $0.60. 
"It's exciting when we see impressive data like this coming out of the industry. Even more exciting when we are able to share this with our customers to help them build a case for channeling their marketing dollars from higher cost channels to more cost effective tactics like those using promotional products," stated Carrasco.
The 10-20-30 program was developed to compliment the "3 Reasons Why Promotional Items Are A Value For The Marketing Dollar" which were presented from data gathered from the most recent ASI Impression Study. The 10-20-30 program is available through March 20, 2013.
See BrandingIronStudios.com for promotion details or call 888.773.6280 and a Branding Iron Studios strategist will be available to explain the program and help provide support for awareness campaigns and brand building efforts.
Visit BrandingIronStudios.com and reference coupon code 3REASONS for any single item.  For purchases of 2 or more items, customers should call 888.773.6280 or email support (at) brandingironstudios (dot) com to take advantage of the 20% and 30% discounts.