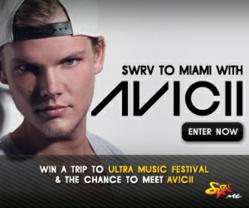 New York, NY (PRWEB) February 22, 2013
Starting this week, music fans can enter the "SWRV To Miami With Avicii" sweepstakes for a chance to win a trip for two to Miami, FL to meet Avicii and attend the 15th annual Ultra Music Festival. One Grand Prize winner will receive two VIP tickets to the Ultra Music Festival on March 15 - 17, 2013, along with hotel, airfare, and the chance to meet Avicii.
To enter the sweeps, fans should head to SWRV's Facebook page at: http://bit.ly/SWRVwAvicii to enter to win the ultimate festival lover's experience. Sweepstakes entry is open through March 3, 2013.
SWRV is currently available throughout the US via several providers including RCN, Cox Communications, Verizon FiOS, and AT& T U-verse®. From creating and starring in video dedications, to voting for the next video to play, and even taking over their own show, viewers can interact with and control SWRV content through their mobile devices and online at swrv.tv. SWRV features mainstream pop and hit-driven music videos. For more information on SWRV log on to swrv.tv or to become part of the SWRV community join us on Twitter: @SWRV | Facebook: facebook.com/swrv.tv | Tumblr:swrvtv.tumblr.com
SWRV…DON'T JUST WATCH!