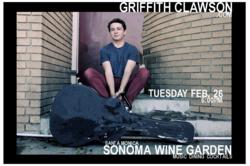 Los Angeles, Calif (PRWEB) February 21, 2013
With a fast growing fan base - soon to be music star, Griffith Clawson, will be performing at Sonoma Wine Garden in Santa Monica on Tuesday Feb. 26, 2013 at 6:00pm.
A true "raw talent" musician, 16-year old singer/songwriter Griffith Clawson is quickly attracting the ears and attention of fans across Pacific Coast Highway. As a California native, Griffith performs regularly at some of the most popular locations in Los Angeles and Orange County. With over 159,000 views on YouTube, some of Griffith's hits – such as "One More Smile" "Apart" and most recent, "She Was Mine" have reached over 20,000 views each. Griffith's smooth voice and meaningful lyrics make him a star bound for worldwide success.
"Understanding the music business is a process that keeps unfolding for me. Early on, I thought it was simple; I'd just do what I love, create from inside and it would all just fall into place. Now I understand that there are steps that need to be taken and milestones that I need to hit which will become a part of the story of how I got to wherever I am going," says Griffith. "I want to know that people feel a sincere connection with my music. I want to play to audiences that know the lyrics and are moved because they think I am somehow telling their story. That is something that truly makes me feel good and keeps me wanting to create."
Still a young musician, Griffith continues to grow with every performance he does. Be sure to check him out at Sonoma Wine Garden on Feb. 26, 2013 and keep up with where he is on his Facebook and Twitter pages.
About Griffith Clawson
Griffith Clawson is a local 16-year old native of Orange County, Calif. With a growing fan base, Griffith's music has spread from cities across the United States to as far away as Portugal and Zimbabwe. He plays gigs year round and is a favorite at Alta Coffee House in Newport Beach. Griffith is the youngest recognized Ambassador to the Orange County Foster Youth through The Orangewood Children's Foundation for his financial support via concerts, which he holds to raise money, and receives donations of goods. For more information or to hear of Griffith's music, please visit http://www.GriffithClawson.com.