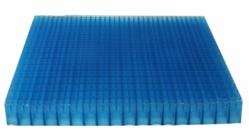 First of all let me say I think you have a wonderful product…I ordered the largest cushion which I think is a little too tall so I am going to order one of the smaller ones also.
Alpine, UT (PRWEB) February 21, 2013
WonderGel launched their business and unique product line in May of 2012. Since then their pressure-relieving gel seat cushions have been flying off the digital shelves to fulfill WonderGel's mission statement of making the world a more comfortable place to sit.
The response to their seat cushions has been on-average, 5 stars by the customers. "Superior to other cushions I have tried. If only I could get it in a larger size," states one Florida customer. Requests from customers for a larger size and a lighter weight cushion, lead to WonderGel releasing their New DoubleGel this month.
The New DoubleGel provided many enhancements and advantages over the old DoubleGel. For example, WonderGel has enhanced the pressure relief technology by making the soft side with thinner walls and smaller cells, and the support side with thicker walls and larger cells. They have increased the size of the cushion adding 20% more seating area. While it is the same dimensions as the old cushion (16"x18"), the edges are no longer rounded down, cutting off the seating area.
WonderGel has reduced the weight of the cushion by over 33%, making it easier to transport. They have made the cushion out of a single piece of gel, thus eliminating the need to glue two gel pieces together, making the New DoubleGel much more durable, and avoiding the risk of the two separate pieces ever becoming detached from one another.
WonderGel reduced the height of the cushion from 2.5" to 2.0". This allows for the cushion to be used in more places that may not have as much headroom or other clearance areas should one sit too high, such as cars. With their New DoubleGel technology, they can achieve great pressure relief and also provide support with less gel, thus making it more comfortable while reducing the height requirement.
Check out their New DoubleGel and other great products at http://wondergel.com/