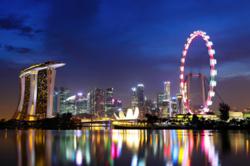 Singapore is a cultural melting pot and a destination choice for most travelers. Hence, we come up with a list of activities and attractions which offers unique experiences.
Singapore (PRWEB) February 22, 2013
To help travelers get the most out of their trip to Singapore, BudgetHotels.sg, an online hotel guide specializing in listing budget hotels near train stations in Singapore, has drawn up a list of top 10 unforgettable travel experiences in Singapore that will offer the best excitement.
The cosmopolitan Lion City may be compact but it is packed with eclectic shopping experiences, vibrant nightlife and an endless offering of food and beverages (F&B) outlets.
Danny Lee, founder of the BudgetHotels.sg website, said: "Singapore is a cultural melting pot and a destination choice for most travelers. Hence, we come up with a list of activities and attractions which offers unique experiences. Of these, some stand out due to their location, style and value for money. "
Indeed, not only these activities and attractions offer a unique experience, they are also located near budget hotels in Singapore – which makes booking a hotel stay easy for travelers.
The following 10 activities and attractions emerged as the top unforgettable experiences:
1. Panoramic City View from Singapore Flyer and Marina Bay Sands Skypark
Standing at more than 500 feet above the city, take in the spectacular view of Singapore's city skyline and Marina Bay area from Singapore Flyer and the Marina Bay Sands Skypark's observation deck. There is no other place in Singapore that offers these breathtaking day and night views.
2. Singapore F1 Grand Prix Night Race
The only night race in the F1 World Championship, the Singapore F1 Grand Prix is a heart-thumping experience that will enthrall any F1 fans. Located downtown in Singapore's Marina Bay area, the street circuit is spectacular when it is lit up against the city lights.
3. Feast on Hawker Food
Singapore is one of Asia's culinary capitals. While there are a number of top restaurants, it also boasts a plethora of local hawker delights offered by cheap stalls and foodcourts. Get ready to gain a few pounds when in Singapore.
4. Shopping along Orchard Road
Singapore is a shopaholic's paradise, and the world-famous Orchard Road is the iconic 2-kilometer shopping belt filled with shopping, dining and entertainment. From branded boutiques to lifestyle stores, Orchard Road is as extensive as it is exciting.
5. Follow the Lady River of Singapore
A unique experience to enjoy the splendor of Singapore River is to take a river cruise and marvel at the richly-mellowed colonial buildings and famous water-sprouting Merlion
6. Exploring Religious Diversity
Experience Singapore's unique cultural diversity by heading to the different ethnic districts where a number of the religious buildings have become prominent architectural landmarks.
7. Step Back into Colonial Charm
Retrace Singapore's colonial history at the elegant Raffles Hotel, a magnificent sight to behold even in the ultra-modern Singapore.
8. Bask in Orchids at The Botanic Gardens
There is nothing as therapeutic or more pleasurable when visiting possibly the largest orchid garden in the world at Singapore's The Botanic Gardens. Look out for Vanda "Miss Joaquim" which is Singapore's national flower.
9. ZoukOut with Sasha and Armin Van Buuren
Join thousands of like-minded party-goers and experience one of Asia's biggest music dance festivals - ZoukOut which features a stellar line-up of deejays including Sasha and Armin Van Buuren.
10. Singapore's Last 'Kampong'
For a different experience to your urban adventure, head to Pulau Ubin - Singapore's last remaining village, or 'kampong'. An island off the northeast coast of Singapore, Pulau Ubin is home to about 100 villagers and is popular as an adventure getaway for nature lovers and enthusiasts.
To read more on Singapore's top 10 unique experiences, please visit http://www.budgethotels.sg/10-unforgettable-singapore-experiences/
About BudgetHotels.sg
A popular and specialized hotel search guide in Asia, http://www.budgethotels.sg allows cost-conscious travelers book budget hotels that are near MRT train stations in Singapore.