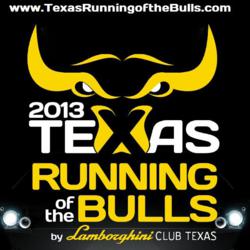 Austin, Texas (PRWEB) February 21, 2013
Lamborghini Club Texas is hosting the 2013 Texas Running of the Bulls in Austin, Texas, March 22nd through 24th. Lamborghini club members will have the opportunity to network and socialize with other participants and also drive on the new Circuit of the Americas Formula 1 track in Austin. 2013 also marks the 50th anniversary of Automobili Lamborghini so there will be a formal gala on Saturday, March 23rd in honor of this golden anniversary.
The Texas Running of the Bulls is an annual event hosted by Lamborghini Club Texas that draws Lamborghini enthusiasts from across the United States. This year, the Texas Running of the Bulls event will be hosted in Austin, Texas and includes track time at the new Circuit of the Americas Formula One race track as well as a casual cruise through the Texas Hill Country. Texas Running of the Bulls is one of the premier yearly events for Lamborghini Club America and Lamborghini Club Texas members.
To participate in the track event, Lamborghini Club Texas requires proper safety gear and a pre-track inspection, and recommends certain items such as track day insurance, comfortable driving clothes for the track, and car-mounted video equipment. The meals will vary from casual to formal, and due to March Madness, Lamborghini Club Texas could only reserve a limited number of rooms at the W Hotel in Downtown Austin.
Out of area Lamborghini owners wishing to participate are requested to arrange to have their Lamborghinis transported to Austin and back home. Many will choose to have their Lamborghini shipped to Austin to ensure they will not miss out on the track time at the Circuit of the Americas race track or the casual Hill Country drive.
To register for Texas Running of the Bulls, please visit their website and access the registration page. Since this is a private event and the goal is to provide each driver with adequate track time, only a limited number of driver registrations are available. For Lamborghini owners who wish to participate but not interested in tracking their Lamborghinis, a special Concours Package has been created for them. Lamborghini Club Texas encourages owners to registration early to ensure they do not miss out on this historic edition of this year's Texas Running of the Bulls.
For more information, please visit: http://www.texasrunningofthebulls.com