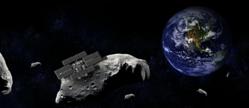 Stott Space is the Asteroid Mining Company for the Common Man
Missoula, Montana (PRWEB) February 26, 2013
Space may be the final frontier, but that isn't stopping Stott Space Inc. from making it a frontier accessible to the masses. With the launch of their Indiegogo campaign, Stott Space hopes to find the resources necessary to begin large scale asteroid mining within the decade.
"This is not your typical space travel dream," says Isaac Stott, CEO of Stott Space Inc. "Current goals by existing asteroid mining companies are too small, and we know we can do better. By focusing our efforts on affordable and realistic technology, and allowing for our fellow humans to contribute to the development of this technology, we hope to make space the next destination for mankind."
Stott Space's goal is to execute a number of steps that will take the common man not only into space, but allow him to settle it. Highlighted on their Indiegogo project page, http://igg.me/at/spacemovement, these steps will drive the human race into space:
Step 1: The Space Movement!
What good is a movement without the support of the people? Stott Space is encouraging everyone to spread the word about the movement by purchasing space merchandise, wearing it around and talking about it with friends, family and coworkers. The more attention this campaign receives, the better its chances for success.
Step 2: Asteroid Mining!
This is the holy grail of space exploration – material gathering. With the success of this campaign, Stott Space intends to not only be capable but to actually be returning resources to earths orbit by the end of the decade. In just ten years, Stott Space is positive they can have full blown asteroid mining operations in place, starting at ten tons of raw material per payload. This is a huge step over current industry goals of bringing back a few rocks from space.
With asteroid mining a reality, this should serve as a catalyst to propel a self sustaining space economy.
Step 3: Facilitate Space!
The ultimate goal of this movement is to encourage new and existing companies on earth to pool their resources together and build a space colony. It is the hope of Stott Space that this colony, initially formed in earth's orbit, will encourage space travel and lead to an economic boon, creating jobs and expanding mankind's reach into the stars.
"What makes this all so special is that what we're doing has not only never been tried on this scale before, but that we're doing it through the investment of our fellow man," says Chad Stott, President of Stott Space Inc. "Tackling space exploration and asteroid mining is no easy feat, which is why it will take the concerted efforts of this whole world to push us into the largest frontier known to man."
Stott Space is currently working on plans to develop and build a mining module complete with all the necessary redundancies necessary to successfully perform asteroid mining operations and transport material back to earth.
"Instead of doing this for our own glory, like other asteroid mining companies are prone to do, we are launching this project for the common man. This is the common man's company – we simply want to be a part of it," says Isaac.
For information regarding Stott Space Inc., please visit http://stottspace.com.
For information regarding the Indiegogo project, please visit http://igg.me/at/spacemovement.
About Stott Space Inc.
Stott Space Inc. was founded by a team of four brothers with a mission to bring the common man to space. They have focused their first efforts on asteroid mining and raising public awareness of how ready space is for development. This will serve as a catalyst to promote the economy in space and provide the resources needed to build the beginning commercial infrastructure of space.
Contact:
Isaac Stott
CEO, Stott Space Inc.
801-310-6370
Isaac(at)stottspace(dot)com