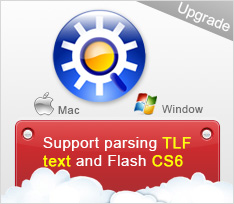 Sothink SWF Decompiler is an essential tool to all Flash designers.
(PRWEB) February 26, 2013
SourceTec Software Co., Ltd. just released the new version of Sothink SWF Decompiler.
In this version, Sothink SWF Decompiler is added with two new major features – exporting FLA in Flash CS6 format and decompiling the SWF containing TLF text.
Last year, Adobe released the new version of its Flash design tool, Flash CS6. However, many existing SWF-to-FLA converters are unable to decompile SWF to the new version of FLA, which results that Flash designers cannot modify the new SWF in Flash CS6 format without the original FLA. In addition, correctly extracting the TLF text embedded in SWF is still a difficulty to many Flash designers. The new version of Sothink SWF Decompiler is born to solve these problems. Sothink SWF Decompiler is a multifunctional SWF-to-FLA converter which enables users to edit their Flash works again even though they miss the original FLA/FLEX. It is able to decompile SWF to FLA/FLEX (including Flash CS6 format), extract and save SWF elements into multiple formats and convert simple SWF to HTML5 directly. Besides, Sothink SWF Decompiler can be also used as a SWF editor - it provides users with various manual drawing tools to let them modify or redesign their SWF without Adobe Flash.
"Sothink SWF Decompiler is an essential tool to all Flash designers like me." Edward Lee, a Flash designer working for an advertising company in England, said, "I believe every Flash designer has ever experienced the helplessness when he cannot find the original FLA of a SWF that needs to be modified. Without Sothink SWF Decompiler, all has to be done from scratch, that's too frustrating!"
To learn more about this product, please visit the websites below:
For Windows:
http://www.sothink.com/product/flashdecompiler/
For Mac:
http://www.sothink.com/product/flash-decompiler-for-mac/