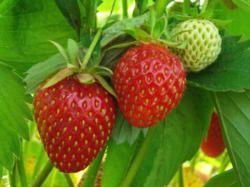 Minneapolis, Minnesota (PRWEB) February 22, 2013
Gardening is one of America's leading outdoor activities, but has become more of a necessity than just a hobby for many home gardeners in recent years. The struggling economy and rising produce prices have led many families to grow their own to save money. Minneapolis based Small Fruits, LLC is at the forefront of the ripening home-grown fruit industry.
Small Fruits' owner, Brian Stuart, believes the fruit market will see dramatic changes over the next few years. "Many people grow vegetable and herb gardens but very few grow their own fruit," says Stuart. "Most people aren't even aware that they can grow their own fruit but that's far from reality. Growing fruit is easy and much more lucrative than vegetables which need to be re-planted each year," he adds. "Fruit plants will continue to produce high yields year after year and your backyard is about as fresh as it gets!"
A wide variety of blueberries, blackberries, raspberries, honey berries, grape vines, and strawberries are just some of the plant products offered by Small Fruits. The company accepts orders through its online catalog year-round and actively ships the plants April through October. The majority of the fruit plants offered are hardy throughout the country from Minnesota to Texas and from New York to California. You can verify the hardiness zone in your area through the company's website and then compare that to each product to make sure it will survive in your region.
According to a comprehensive research study completed by the USDA, berries have been found to contain extremely high levels of antioxidants, a disease-fighting compound contributing to good health.
"I don't think anyone is overly surprised that fruits are a rich source of vitamins and offer numerous health benefits," Stuart states. "The shocking part is just how healthy they have proven to be – all the more reason to grow your own."
The USDA also reports a sharp spike in berry imports. "Imports of berries (excluding strawberries) totaled $1.76 billion in 2012, up 15% from 2011. Within the fresh berry category, imports of cultivated blueberries were up 11%, with raspberries up 36%. Strawberry imports (combined fresh and frozen) totaled $497 million, 36% higher than 2011 imports" (Source: USDA, 2013).
Small Fruits has no doubt that the demand for berries will continue to rise. The company believes that the imports will likely come down as domestic fruit production increases, though there will be some variance from year to year due to Mother Nature.
The uses of berries are endless and include jams/jellies, canning, wine-making, pies, tarts, turnovers, smoothies, muffins, breads, sauces, or just eating them plain and fresh. You can even freeze berries for year-round consumption. Our company slogan says it all, Stuart concludes, "Grow Fruit. Save Money. Eat Fresh. Live Healthy."
For more information, please visit http://www.SmallFruits.com .