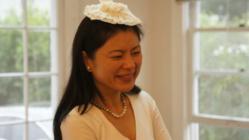 Money is not the real reason for marital conflicts
Los Angeles CA (PRWEB) February 20, 2013
In early February, Hellen Chen, marriage expert and matchmaker extraordinaire, successfully ran the second workshop that tackled the very problem of why more and more men and women have given up on finding their perfect match.
The audience in attendance at this Los Angeles workshop ranges from single young men and women, to married couples who wish to turn around an unchanging marriage. Some in attendance were divorcees who had given up on marriage until they met the passionate matchmaker.
One of the issues brought up was in the area of economics and how financial worries have made couples postponing marriages, and made married couples quarrel and separate.
Chen said, "Money is not the real reason for marital conflicts - unless someone marries another person in the first place because of money, not love. But poor communication and a few other fundamental elements can make or break a relationship."
In a recent interview on a radio show from St Louis, Missouri, Chen advised a few tips on how to make a relationship last, "Do not be so caught up in the rights and wrongs and insists the other person changed to your liking. Work towards your mutual goals is a much more positive approach."
Chen who is also a bestselling author, wrote about real-life stories of couples who have started with very little and yet improved their relationship tremendously and positively affecting their careers after marriage.
This book "the Matchmaker of the Century" was launched recently on Barnes and Noble and while debunking many marriage myths such as "romance ends where marriage begins," it struck a chord with readers and subsequently achieved #1 bestselling status in 6 categories: marriage, self-help, relationships, love and romance, self-improvement and parenting and family.
Chen's marriage philosophy has been shared on over 100 TV, Radio and media publications.
Chen plans on holding more love workshops to help singles and married couples allay fears of economic concerns and to focus on how they could start a relationship that actually improves all aspects of their life - including finance and career.
For more information visit http://MatchmakerOfTheCentury.com