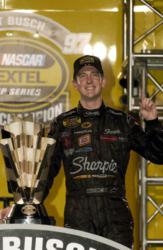 "Just like anything in my line of work, I jump in and I go full-throttle with it," Busch concluded. "Keep an eye on us. We're going to be moving the needle when it comes to fashion and new design."
San Clemente, CA (PRWEB) February 22, 2013
Kurt Busch, American NASCAR Sprint Cup Series race car driver has partnered with the gasoline-fueled actions sports apparel brand Panic Switch Army, founded by former Silver Star owners, Luke Burrett and Charis B.
"We have friends in business and when you share the same passion for business like Luke and I do, it's easy to be excited about a new venture, but most importantly, the two of us will be on the same page, moving the needle as we go down this road together," said Busch, a 24-time Sprint Cup race winner.
The exciting new partnership also includes One Punch Distribution, the authorized official worldwide wholesale distributor of TapouT, Jaco, Tribal Street Wear, Panic Switch Army, and Anti-Human.
"This partnership will attract Kurt's fan base and the NASCAR world to Panic Switch and One Punch Distribution," Burrett said. "We are excited to utilize his expertise and his huge audience will now be exposed to our brands overnight."
"We will be launching a signature series Kurt Busch line for Panic Switch Army and you'll be seeing much more of us in the NASCAR arena very soon," Burrett said. "We're extremely thrilled about the partnership and the numerous possibilities in the NASCAR world."
The cutting-edge look of Panic Switch Army's designs and Luke's artistic vision are two of the catalysts that sparked Busch's interest in becoming an invested partner with the fashion enterprise. The partnership was formed as a result of a friendship between Busch's girlfriend, Patricia Driscoll, who runs the Armed Forces Foundation, and Charis. B.
"There are people in this world who are artists and I like how Luke sees things," Busch explained. "Not that I'm on the cutting-edge of fashion here," he said, laughing, "but I've had my different distinct styles over the years and it's a good match."
"I want people to know that they can find quality clothing that is on the cutting-edge of something new and exciting," Busch said. "This is a chance for my fans to be on the frontline of a new beginning."
Panic Switch Army is also proud to announce the debut of Gasoline Girl, the new women's clothing line spearheaded by former Playboy Playmate and Panic Switch co-founder, Charis B., and fashion designer and TV personality, Kelly Nishimoto.
Busch currently drives the No. 78 Furniture Row Chevrolet SS for Furniture Row Racing in the Sprint Cup Series, and will make his season debut at the Daytona 500 on February 24, 2013.
"Just like anything in my line of work, I jump in and I go full-throttle with it," Busch concluded. "Keep an eye on us. We're going to be moving the needle when it comes to fashion and new design."
About Panic Switch Army
Panic Switch Army, Southern California's new gasoline-fueled action sports apparel brand, founded by former Silver Star owners, Luke Burrett and Charis B., is inspired by extreme sports and music that caters to an adrenaline-charged lifestyle.
About One Punch Distribution
We distribute the coolest, must wear, gotta have now lifestyle and action sports apparel. Our passion is to run a kick-ass company that does the right thing for our customers everyday. The One Punch family of brands includes: TapouT, Jaco, Tribal Street Wear, Panic Switch Army, Gasoline Girl and Anti-Human.
About Kurt Busch
Growing up in a blue collar family on the west coast, racing was only a hobby and NASCAR was only a dream. After collecting race wins in regional racing, Kurt arrived on the national scene, and achieved the ultimate goal, the NASCAR Sprint Cup Championship. Having a strong passion for success and a burning desire to win, those core values have pushed Kurt into many successes on the track and in business, and has shown his dedication for our military through his work with the Armed Forces Foundation. Visit kurtbusch.com and armedforcesfoundation.org for more information.