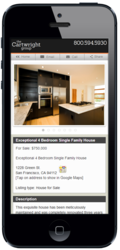 There are many good website builders out there," says vFlyer CEO Aaron Sperling, "but vFlyer Sites is hands down the best for listing marketing and lead generation.
San Francisco, CA (PRWEB) February 21, 2013
vFlyer unveiled a major upgrade of its listing marketing service today with the release of vFlyer Marketing 5.0. The company, already a leader in the online marketing space for real estate and property management, looks to fortify its position in the market with a sweeping set of new features and capabilities focused on mobile, and social media. Here's a look at what's included in the upgrade.
Best-in-class Mobile Listings
Recognizing the rapidly growing use of mobile devices among buyers and renters, vFlyer has revamped its mobile landing pages for listings, improving their appearance and making it easier to share them. In addition, vFlyer users can now create their own custom branded mobile themes. That means a far more compelling way to showcase their listings and brand to a mobile audience.
Facebook Connect and New Listings App
People can now sign up for vFlyer and log in to their accounts through Facebook, making the process even simpler and allowing users to share their listings on Facebook more easily. In addition, vFlyer expects ro re-introduce a new Listings App for Facebook in two weeks that allows users to display all of their listings on their Facebook page. The listings update automatically as they are updated in the user's vFlyer account.
Wider Listing Syndication
vFlyer was a very early entrant in the listing syndication field. By automatically posting listings to sites like Zillow, Trulia, and HotPads, vFlyer enabled its users to spend less time posting and more time growing their businesses. The company is now rolling out several new syndication partnerships, including PennySaverUSA, Lovely, Trovit, and Realtor.com and will be syndicating apartment rental listings to Zillow. The expanded listing syndication will save vFlyer users time and energy while exposing their listings to an even wider audience.
Websites Built around Listings
vFlyer has always aimed to make the integration of users' listings into their various web properties as easy as possible. For instance, it provides an RSS feed for listings, a WordPress listings plugin, and a variety of embeddable listings widgets among other things. With the introduction of vFlyer Sites in 2011, it made the integration even easier by enabling users to seamlessly connect their vFlyer listings to their website.
Now, with the latest release, what was good before is now amazing, as the integration and management of listings has become even easier. vFlyer Sites users now have multiple ways to display their listings: in a gallery format, a slideshow, a mini-listings module, and a comprehensive search module, among others. The latest release improves the layout of images in the listings and optimizes the loading of photo slideshows on listing detail pages.
"There are many good website builders out there," says vFlyer CEO Aaron Sperling, "but vFlyer Sites is hands down the best for listing marketing and lead generation."
Pricing
vFlyer continues to offer the vFlyer Marketing service at subscriptions starting at $12.95/month and bundles of the Marketing and Sites services starting at $19.95/month. All plans come with a 30-day money-back guarantee from an A+ rated firm by the Better Business Bureau.
About vFlyer
Based in San Francisco, CA, vFlyer is an award-winning online marketing company dedicated to providing effective, affordable listing marketing tools for real estate agents, property managers, and other professionals. vFlyer's products include vFlyer Marketing, a listing marketing service that provides listing syndication, Craigslist templates, mobile landing pages, and a variety of other tools, and vFlyer Sites, a powerful, easy-to-use website builder and hosting service that seamlessly integrates with vFlyer Marketing. The suite of services offers the perfect choice for professionals looking to market their listings and their businesses in a way that produces results. For more information, visit http://www.vflyer.com.
Contact Information:
Aaron Sperling
vFlyer Inc.
415-375-4087
asperling(at)vflyer(dot)com
###