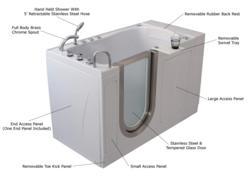 Grab bars now come standard on several walk bathtubs and ADA shower stalls.
New York, NY (PRWEB) February 21, 2013
National walk bathtubs distributor, Aging Safely, announces they will be offering grab bars standard on bathtubs for senior citizens and package ADA shower stall systems. Safety grab bars can add additional security and peace of mind for the elderly or mobility impaired individuals that may struggle with balance and security when entering a bathtub.
A very popular product among the aging population is hydrotherapy walk bathtubs and ADA shower stalls. These unique specialty bathing appliances are designed to help assist in an easy and safe entry and exit for people with limitations with their mobility. Seniors that are looking into options for aging in place will most likely at least consider a step in tub, wheelchair access shower or other similar product to enhance a safer bathroom environment.
According to Aging Safely, there are many walk bathtubs on the market today where important accessories such as safety grab bars cannot be installed without negotiating the integrity of the shell construction. Having the safety grab bars pre-installed and come standard on the walk in tubs can provide bathers with extra security when entering and exiting the step in tub or wheelchair access shower.
In addition, the Aging Safely walk bathtubs ecommerce website also provides safety grab bars individually. Whereas shoppers can select from a variety of ADA compliant grab bars without being required to purchase an ADA shower, wheelchair access shower or hydrotherapy spa.
Aging in place technology has come a long way in recent years, however sometimes the best solutions to aging in place successfully has passed the test of time like grab bars, which have been around for a very long time. Fall prevention is big business because falls are prevalent, especially with the elderly and for people that have mobility challenges or limitations.
Wheelchair access shower systems come in a variety of sizes and have a number of features that can be customized. According to Aging Safely, customers can even customize the color of the elderly showers and walk in tubs. Making it easy to match décor and have the bathroom feel more like a home than something institutional.
With Aging Safely now offering grab bars standard on several walk in tubs direct from the factory, shoppers will be able to get the safety features they want without paying additional prices to add on accessories for fees. Despite visitors having the ability to purchase walk bathtubs and ADA shower systems on the eCommerce site without assistance, shoppers are invited to contact an Aging Safely customer service representative that can help them assist in selecting the proper step in tub or elderly shower.
Contact Information:
Zach Wennstedt
720-495-5497
info(at)walkbathtubs(dot)com