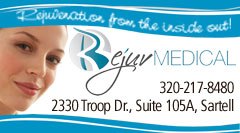 Our studies show that up to twenty-seven percent of absenteeism from work is eliminated simply by promoting a Corporate Wellness program
Minnesota (PRWEB) February 25, 2013
Rejuv Medical is launching the company's Corporate Wellness program. The initiative based program is designed to promote wellness at work through an extensive relationship between employer, employee and Rejuv Medical.
"This program is designed to bring Rejuv Medical into the workplace or the employees to one of our two locations," said Tim Schmidt, Community Liaison for Rejuv Medical. "Employers can help their employees save on time away from work or missing their kids' events by staying fit and healthy. I've found if an employer is promoting good health through a Corporate Wellness plan, then that employer has happier employees. It is a win-win situation."
Rejuv Medical's Corporate Wellness program can save an employee up to five hundred dollars per year in medical expenses. And, with Minnesota having a high diabetic and obesity rate, this number can and should be lowered. "Our studies show that up to twenty-seven percent of absenteeism from work is eliminated simply by promoting a Corporate Wellness program in the workplace. Basically, the cost for this program saves employers money and employee issues long-term," continued Schmidt.
Employers who want more information can visit the company's link here: http://www.rejuvmedical.com/pages/CorpWellness/ or contact Helene Vece, Media Manager for Rejuv Medical. Complimentary tours and proposals are available upon request.