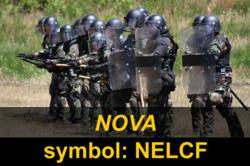 Destin, Florida (PRWEB) February 21, 2013
NOVA Electric Immobilization Devices, PLC, a UK Company, announced the purchase of all assets of MAS Security Systems on December 27, 2012. NOVA delayed the announcement until completing the changing of officers and directors. George Brown is the CEO and President of the new entity, NOVA Security Group, Inc. (formerly, NOVA Technologies EID, Inc.), a subsidiary of NOVA Electric Immobilization Devices PLC. (See Nova on Finance.Yahoo.com)
NOVA conveyed 19,200,000 restricted common shares for MAS assets and agreed to assume some of the liabilities under certain, not yet disclosed, terms and conditions. Aatif Rahman is the Chief Operating Officer of the Company and a Board Member. MAS has three votes on the Board of Directors of both Companies, and the Parent Company controls three votes on the Board.
Nova has developed a five-shot automatic stun gun which will compete with other major manufactures of stun devices, and is expected to be available for delivery to law enforcement agencies early in the second quarter of this year. The "Five Shot," is referred to as the SP-5 (Stun Pistol 5-shot), operates differently compared to the competition; it is loaded with a "magazine," similar to an automatic, with a different design on the projectiles. Brown, CEO of NOVA's USA operations explains, "It is like the difference between a muzzle-loaded rifle and an automatic when comparing our competitor's stun-gun to Nova's SP-5."
MAS has conveyed ownership of contracts with many correction facilities and law enforcement agencies using its security screening systems. Brown projects the Company will reach close to $8 million in gross sales this year, which he believes to be a conservative number. Brown and Aatif plan to take NOVA Security Group in several directions, including servicing and training.
Dr. John McDermit (PhD Engineering Science), will remain as the CEO of NOVA Electric Immobilization Devices PLC, the "Parent Company," and Dave Jones will stay on as the Executive Vice President. Both men will serve on the Board of Directors of each Company.
In a separate statement, Dr. McDermit stated, "We are extremely optimistic about our future, especially with the direction of our stock which is currently trading on the Berlin Exchange. We now have coverage listed on the S&P, and we hope that we will soon be trading on the "Pinks." We also and plan to take the Company to the next level of quotation on the German exchange."
FORWARD LOOKING STATEMENTS: This document may contain forward-looking statements protected by the Private Securities Litigation Reform Act of 1995, as amended. Such statements include words like "anticipate," "hope," "assume," "expect," "project," "believes," or similar words. Actual results may differ from those results indicated by forward-looking statements. Readers of this document should not assume results will be as indicated by forward-looking statements. There are a number of factors, many beyond the control of or beyond the ability to foresee of Nova EID, that determine actual results. Neither this document nor any of its contents are an offer to sell any securities, investment advice or a solicitation of any offer to purchase or sell securities. URL's referenced above do not incorporate any content into this document.
For more information regarding Nova, see nova-usa.com.