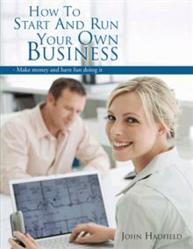 "Many people have been dreaming for years about starting their own business," Hadfield says. "If you start at the beginning of this book, and follow all the advice, you will end up with a viable, money-making business."
BICESTER, England (PRWEB) February 23, 2013
The new e-book "How to start and run your own business: Make money and have fun doing it" (published by AuthorHouse) from author and successful entrepreneur John Hadfield is short, sweet and to the point: "If you want to find success as your own boss, this is the book for you."
From his own success Hadfield has identified three critical factors that influence the success of small business owners: one must like the type of business one intends to start; one must be prepared to work hard; and one must be practical in all things and not spend money needlessly.
An excerpt from "How to start and run your own business":
"The first thing is that you have to want to start your own business. Not just want but have a passionate need to start your own business.
The need must be very strong indeed.
If you think that maybe it might just possibly be a good way of spending your time in retirement, please forget about starting a business."
"Many people have been dreaming for years about starting their own business," Hadfield says. "If you start at the beginning of this book, and follow all the advice, you will end up with a viable, money-making business."
"How to start and run your own business"
By John Hadfield
E-Book | 22 pages | ISBN 9781477246481
Available at Amazon and Barnes & Noble
About the Author
John Hadfield attended the New College School and Magdalen College School in Oxford, England, and was a qualified translator during his service with Royal Air Force. After his service he worked as a salesman for the British Motor Corporation in Europe, and also as a district manager with the Chrysler Corporation in Greece, Lebanon and the Philippines.
Hadfield founded his own translation company, Tradestar France, in 1989, before selling it in 2008 and founding a new translation company, Oxford Translations Ltd.