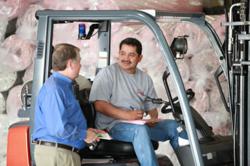 "Our chaplains have always been able to provide whatever assistance needed in both crisis situations or support roles." Joan Schiller, co-owner, Foremost Manufacturing.
Plano, Texas (PRWEB) February 23, 2013
On February 23, 2013, an article was published regarding Marketplace Chaplains and resilience in the marketplace. We desire to clarify that Andrew Zolli and Ann Marie Healy, authors of the book 'Resilience: Why Things Bounce Back' mentioned in the article, are not affiliated with or endorsers of Marketplace Chaplains.
Following the release of the new book citing resilience as a new trend in the U.S. marketplace, and a recent Forbes.com article referenced resilience as an emerging business trend for 2013, Marketplace Chaplains is now serving hundreds of U.S. companies with care and compassion in the workplace.
This unique strategic initiative has helped companies handle unforeseen events as diverse as Hurricane Sandy, workplace shootings or company downsizing.
Andrew Zolli, co-author of the book, described the thinking in his recent New York Times op-ed piece, Learning to Bounce Back "[A] new dialogue is emerging around a new idea, resilience: how to help vulnerable people, organizations and systems persist, perhaps even thrive, amid unforeseeable disruptions. Where sustainability aims to put the world back into balance, resilience looks for ways to manage in an imbalanced world."
Zolli and Healy define resilience as "the capacity … of a person to maintain its core purpose and integrity in the face of dramatically changed circumstances…"
It was exactly that type of resilience needed when Hurricane Sandy struck Foremost Manufacturing in New Jersey late last fall. Chaplains Jay Olivo, Del Beiber and John Knaack sprang into action, working with Foremost Manufacturing Owners, Joan and Herb Schiller, to care for their company, and most importantly, their employees and family members.
The company was without electricity for several days and employees had to be sent home because of lack of power and work at Foremost.
"Our chaplains have always been willing to provide whatever assistance needed in both crisis situations and support roles," said Joan Schiller.
Marketplace Chaplains, formed in 1984, currently serves in 2,875 service locations, covering 44 states, 940 cities and 4 foreign countries and 1 commonwealth, with more than 2,700 chaplains serving and caring for over half a million employees and their family members.
"Our Marketplace Chaplains have supported my employees both on and off our workplace premises," Schiller said
Marketplace Chaplains have also dramatically helped with the new trend of "presenteeism" among employees, where they are physically at work, but distracted and unproductive because of crises occurring in their lives or those of their family members.
"Their (Chaplains) capabilities reach far beyond ours in meeting our Teammates' personally in times of crisis," added McLane Food Service Human Resources Manager, Terry Cameron.
Employees and their families encounter the many challenges that life brings to us all…most of which are not work related, but which they do bring to work in some form or fashion. But they are not the kinds of problems that an employee would generally seek help from their employer."
"It's encouraging to see resilience being defined as one of the six new trends for 2013. Marketplace Chaplains have helped provide the care, resources and tools needed for employees to be and to become resilient for more than a quarter century," said President and COO Dick De Witt.
"Chaplains are there to help the hurting, the happy and the vulnerable in today's workplace, and these innovative company leaders are seeing the vital need to provide this benefit for their employees and family members. If employees are resilient to the ups and downs in life, then the companies will be as well," De Witt continued.
For more information on this fast-growing international and domestic corporate strategic initiative featured on NBC Nightly News, CNN, Washington Post, the New York Times and Bloomberg BusinessWeek, visit http://www.mchapusa.com.
For more information or to arrange an interview with a client company or local chaplain, contact Art Stricklin at artstricklin(at)mchapusa(dot)com or 1-800-775-7657.