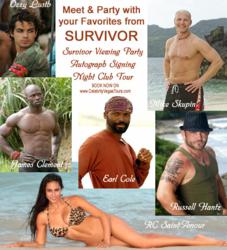 Survivor contestants will sign autographs and take photos to raise money for the charities of their choice
Las Vegas, NV (PRWEB) February 21, 2013
Stars from the CBS reality show "Survivor" are coming to Las Vegas to see if they can outplay, outdrink, and outparty in Sin City. Survivor fans will be given the opportunity to meet, greet, and attend a party bus tour with their favorite castaways on February 27-28.
On Wednesday, February 27, a viewing party of "Survivor: Caramoan – Fans vs. Favorites" will be held at Bally's Hotel & Casino from 7pm-10pm. Brandon Hantz, a "Favorite" on the current season, will be attending the event. Other Survivors attending include:

Russell Hantz: 2-time fan favorite; recently voted as "Favorite Reality TV Villain" on RyanSeacrest.com
Ozzy Lusth: 2-time fan favorite & challenge dominator
Earl Cole: Winner of Survivor: Fiji
James Clement: 2-time fan favorite
Mike Skupin: Runner-up of Survivor: Philippines
RC Saint-Amour: Reigning Miss Survivor
Plus, the viewing party will feature stars from other reality shows, including:
Brandon Drake Nelson: MTV's The Challenge
Leroy Garrett: MTV's The Challenge & The Real World: Las Vegas
Sheila Kennedy: Big Brother 9
Tickets to the viewing party cost $100, which includes snacks and beverages. Space is very limited. Reservations can be made at http://www.celebrityvegastours.com or by calling 702-235-4293. Those not attending may watch the viewing party live at http://www.liveatthestudio.tv for $1.99.
On Thursday, February 28, from 10am-6pm at SpringHill Suites, the Survivor contestants will sign autographs and take photos to raise money for the charities of their choice. There will also be a silent auction with Survivor memorabilia and fun events with the castaways to benefit the charities.
SpringHill Suites is located on 2989 Paradise Road, Las Vegas, NV 89109. Admittance to the Survivor signing is open to all ages. The entrance fee is $10, which benefits the POOF Foundation, a Las Vegas charity dedicated to the rescue and treatment of homeless pets.
After the signing, the Survivors will have a cocktail reception at Bally's Hotel & Casino from 8pm-9:30pm. Then from 10pm-3am, MTV's Brandon Drake Nelson will host a party bus tour with Celebrity Vegas Tours, taking the Survivors and fans to the Las Vegas night clubs REVOLUTION and LAX.
Tickets to the cocktail party and nightclub tour, respectively, are $150 and $300 at-door. However, reservations made by February 27 will receive a 50% discount, reducing the prices down to $75 and $150. Tickets can be purchased at http://www.celebrityvegastours.com or by calling 702-235-4293.
About Celebrity Vegas Tours:
Hosted by Brandon Drake Nelson from MTV's The Challenge, Celebrity Vegas Tours offers VIP bus service to Las Vegas' hottest nightclubs. Passengers will be picked up at their hotel in a luxury party bus and taken to private VIP areas of multiple nightclubs where they will receive free drinks without having to deal with lines or cover charges. Celebrity Vegas Tours is also the only club tour company in Las Vegas that returns its customers back to their hotel, providing a completely hassle-free night.