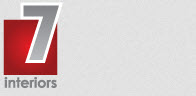 The benefits of an image transformation, whether renovating an old space or moving into a new one, can have dramatic effects on productivity and job satisfaction among the work force, as well as presenting a cutting edge image to clients
London, England (PRWEB) February 21, 2013
Interior design and installation company 7 Interiors have made a new year's pledge to rejuvenate and refresh the image of offices throughout London and the surrounding area in 2013. Their design and installation teams use environmentally friendly technological innovations combined with artistic savvy to transform workplaces into vibrant communities.
Joe Bragg, spokesperson for Brand Outreach, explained the linkup between the two businesses, "7 Interiors want as many offices and businesses to know about their New Year mission as possible. The benefits of an image transformation, whether renovating an old space or moving into a new one, can have dramatic effects on productivity and job satisfaction among the work force, as well as presenting a cutting edge image to clients and the wider world. With these benefits, we feel it's essential businesses find out about this offer."
7 Interiors' knowledgeable and experienced team of office refurbishment specialists create spaces that they guarantee will be considered, practical and interesting, making the most of effective use of the space available to their clients.. The company provide glass partitions, branding, and extensive interior design including furniture, lighting and flooring.
A 7 interiors spokesperson explained, "Many offices grow slowly and organically, but this means they can often become overcrowded or badly thought out. Design considerations for modern offices have evolved dramatically as a result of research on productivity and satisfaction, and we bring that knowledge into companies so they can see the amazing effects of a refurbishment on a business. Equally, new businesses need to start as they mean to go on, and nothing will attract talent like having an amazing space in which to work."
About 7 Interiors: 7 Interiors deliver high quality, low cost office interior fit-out services in London and surrounding areas. Their clients include SJ Berwin, Tribal Group Plc, Close Brothers Corporate Finance, Mishcon de Reya and BDO Stoy Hayward. Their experience in both design and fit-out means they can work closely with corporate facilities teams to bring their new commercial premises to life. For more information please visit: http://www.7interiors.co.uk/
About Brand Outreach: Brand Outreach is a brand management business that boasts clients across the globe. Brand Outreach specialize in promoting and defending online reputations. They use traditional media channels as well as Social Media to grow brands and interact with customers target markets.