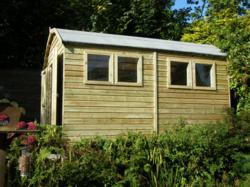 Artisanship in woodwork makes the difference between a shed lasting five years and a shed lasting twenty five years, and our prices are such that the difference actually makes a massive saving over the lifespan of the product
Selby, England (PRWEB) February 21, 2013
Yorkshire based Sheds Direct are high quality shed manufacturers who have taken to the internet to sell directly to the end user, cutting out the retail middle man and eliminating the need for flimsy, low-quality identikit sheds in their region. Now they look further afield to attract trade nationwide.
Joe Bragg, a spokesperson for Brand Outreach, explained, "The work done by Sheds Direct is of superior quality and has all the hallmarks of a Yorkshire manufacturer- hard graft, honesty, friendliness and affordability. The winning combination has made them a big success in their home county, but now we're looking to support them in achieving a nationwide customer base. The work speaks for itself, we're just making sure their voice is heard in amidst the national online conversation."
Sheds Direct have been manufacturing garden sheds, workshops, Dutch barns, potting sheds and kennels for years, and place their emphasis entirely on quality in both manufacture and customer service. The company's online presence also has a clear emphasis on transparency, with prices clearly laid out from the outset so buyers know exactly what they're committing to.
A spokesperson for Sheds Direct explained, "We created the company in response to the fact that mass production has seen quality plummet over the last fifteen years. Artisanship in woodwork makes the difference between a shed lasting five years and a shed lasting twenty five years, and our prices are such that the difference actually makes a massive saving over the lifespan of the product. We're honest craftsmen creating a superior product, and we fully expect that respect for our work will reach farther than Yorkshire alone as word spreads."
About Sheds Direct: Sheds Direct are a small manufacturer based in Yorkshire manufacturing with pride, not internet resellers or mass producers thereby ensuring quality products and customer service. Substantial, quality timber is used in the production of their buildings: all sheds are built in Britain by hand to last for years and years, at extremely competitive prices. For more information, please visit: http://www.shedsdirect.net/
About Brand Outreach: Brand Outreach is a brand management business that boasts clients across the globe. Brand Outreach specialize in promoting and defending online reputations. They use traditional media channels as well as Social Media to grow brands and interact with customers target markets.