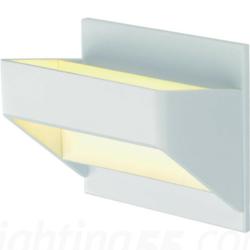 Dacu Space LED Wall light - by SLV Lighting - This sleek fixture has a great price point and is in stock for immediate shipment.
Tarpon Springs, Florida (PRWEB) February 26, 2013
Lighting55 has always provided contemporary and modern Italian lighting fixtures for the exterior and the interior of the homes. For fifteen years, it has offered a variety of products such as Italian suspension lights, chandeliers, table lamps, and indoor ceiling lights in various exceptional designs. Recently, Lighting 55 has added outdoor lighting fixtures from SLV Lighting fixtures to their sales. Based in Tampa (Florida, USA), SLV Lighting manufactures a wide collection of contemporary lighting products that come with both LED and incandescent bases. The latest outdoor lighting collection by SLV Lighting features Arrock Sand 70 Outdoor Bollard Light Sandstone, Delwa Pathlight LED Warm White Outdoor Bollard Light White, and the Drop 100 Outdoor Ceiling & Wall Light.
With its chief base in Übach-Palenberg, Germany, SLV Lighting has grown progressively since its conception in 1979 as the leading lighting company in Europe. Today, it operates associated companies and subsidiaries in countries like France, Germany, Switzerland, Russia, Hong Kong, North America, Belgium and Italy. The brand has delivered almost 34 years of continuous and reliable lighting services such as contemporary luminaries designs, living area illumination, colored lighting devices and other technical lighting products. The company sources its products globally both as a wholesaler and a manufacturer.
One of the most fascinating outdoor products manufactured by SLV Lighting includes the Arrock Sand 70 Outdoor Bollard Light Sandstone. Designed with charming appearance and effective luminance, this modern fixture provides a unique fitting at every location. It is made out of stainless steel and has been given the highest energy efficient class. This fluorescent lighting lamp can work in line voltage ranging from 110 V to 250 V. Apart from its unique energy saving capability, it also comes in a wide spectrum of conservative shades that are perfect to impart a classy and sophisticated aura to the outdoors.
Another product under the SLV Lighting's outdoor collection is the Delwa Pathlight LED Warm White Outdoor Bollard Light White. This remarkable product is LED based and has been credited for its low power consumption. It comes with a life expectancy of almost 15,000 hours and has been granted with a Class 1 safety rating. The product structure has been made and finished with aluminum and incorporates four Power LED lamps, one earth spike and a complete concrete anchor set.
Drop 100 Outdoor Ceiling & Wall Light is also a notable product under the outdoor collection by SLV lighting. This lighting fixture can be mounted on walls or ceilings. The light structure has been made out of aluminum and incorporates two MR16 halogen lamps and an electronic transformer. It has been installed with two trailing edge dimmers that aid in providing dimmable luminance. The product has been assigned a Class 1 safety rating by the experts.
Melissa Cavanaugh from Samara, Russia expressed her views on SLV lighting products, "I ordered Arrock Sand 70 Outdoor Bollard Light Sandstone for my farmhouse. It was simply perfect. It not only looked classy and elegant but also provided the optimum amount of luminance as demanded by the surroundings. SLV products are totally worth a buy."