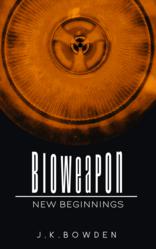 'Bioweapon' is perhaps the most enjoyable and intelligently written novel I've read this year. Personally, I cannot recommend it highly enough. Well done, and I eagerly look forward to Part II. - J. P. Bowman of Fantascize
Korora, NSW (PRWEB) February 24, 2013
In a time when the imaginings of science fiction writers are frequently being brought to life by the realities of technology, it is not hard to think of a world in which our wildest technological fantasies are made commonplace. Neural microchips, mechanical limbs, organic metals, DNA splicing - how far away can these scientific achievements really be? One independent author has taken these ideas one step further, turning them into a believable, fast-paced and thrilling science-fiction series, so that others might be able to share his dystopian vision of the future of our world.
Jeremy Bowden has recently achieved the first step in this goal with the release of the first novel in his epic new series, entitled Bioweapon: New Beginnings. The book was released in November through U.S. Based self-publishing company - Xlibris, and is due for re-release through an Australian self-publishing company later this year. The novel has received glowing reviews from every angle, (see Fantascize for in-depth review) and there is already another episode in the series due for release later in 2013.
The story itself brings together a number of current social and political developments, highlighting contemporary technological breakthroughs to portray "an all too plausible future which utilizes pressing issues such as climate change, global disarmament, a desensitizing media, and consumerism, treating each as the real problems they are, but then twisting their resolution into something even more threatening." (Fantascize.com)
The 'Bioweapon' series is not only an action-packed and imaginative sci-fi thriller, but it is also a social commentary raising very serious questions and concerns about our current society and the direction in which it is moving. An exploration of the concept of freedom runs beneath the entire novel often reflecting its own strained survival in contemporary society.
"'Bioweapon' is perhaps the most enjoyable and intelligently written novel I've read this year. Personally, I cannot recommend it highly enough. Well done, and I eagerly look forward to Part II." - Review by J. P. Bowman of Fantascize.com.