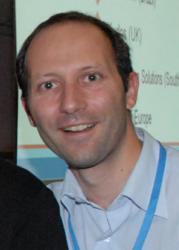 It's an exciting challenge and I look forward to achieving my new targets.
Chippenham, UK (PRWEB) February 21, 2013
INTERNATIONAL software company Preactor today announces the appointment of Sylvain Carrouee as its Global Accounts Manager.
Sylvain joins the firm's management team as part of a string of new management appointments over the past few months as the Preactor Group continues to expand its Enterprise Group management team.
The role will see him building new global relationships with international customers and helping Preactor staff and partners to roll out Preactor to large international firms. The internal promotion followed his work as project manager for Preactor Europe.
Prior to that, Sylvain built up a total of 12 years' experience working with Preactor software. He joined French company Ouromoff Diffusion, which was a reseller of the Preactor suite of products, as an Implementation Consultant in 2001. When Ouromoff Diffusion was then bought by Segula Conseil Industriel, he carried on with the new firm as Preactor senior consultant. He then joined Preactor Europe, the Preactor subsidiary, in 2010.
His role involved building relationships with Preactor partners and users in France, specializing in manufacturing industries. Preactor products allow companies to schedule production to make optimum use of finite resources to meet manufacturing deadlines.
"I am glad to have the opportunity to put to use the experience I have gained over the past 12 years working with Preactor products to develop the Preactor Group's global accounts," said Sylvain.
"It's an exciting challenge and I look forward to achieving my new targets."
Mike Novels, Managing Director of the Preactor Group, said: "Sylvain's appointment is an example of where strong leadership, customer focus and proven success has led to an internal promotion into a senior management position within the company.
"We wish him every success in his new role."
As part of the senior management team, Sylvain will report directly to Mike.
About the Preactor Group
The Preactor Group of companies represents world leadership in production planning and scheduling software used by a wide range of businesses. Frequently integrated with ERP, MES and Supply Chain Management solutions, Preactor's breakthrough technology is used by more than 4,000 small, medium and large multinational companies located in 75 countries.
The Preactor Group and its subsidiaries have established partnerships with more than 400 companies located around the world to provide local expertise to support the implementation of the solution for each company. These 1000+ accredited professionals offer a key resource working closely with users to ensure each company's unique requirements are met.
The current trends in manufacturing are towards lowering inventory levels to reduce costs yet still being able to respond to shorter lead times to satisfy customer demand. Preactor offers a family of applications ranging from mid- and long-term capacity planning to detailed scheduling and is translated into over 30 languages.
Preactor celebrates its 21th anniversary this year. For more information about Preactor, visit the website at http://www.preactor.com and follow on Twitter at http://twitter.com/Preactor.