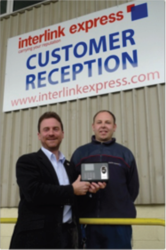 In addition to the cost-effectiveness, the features of the system are also highly satisfying.
Somerset, England (PRWEB UK) 21 February 2013
Access-to-Time, the leading provider of uAttend workforce management solutions in the UK, has announced the launch of timekeeping software systems that offer specialised solutions for the transportation industry in the UK.
Access-to-Time recently provided these solutions to a major player in the local transportation industry. Interlink Express is one of the leading time critical carriers in UK and can satisfy all distribution needs, whether consignments are for the UK or worldwide. Integrating their own extensive UK network with their unrivalled ground based service to Europe and air-express service to the rest of the world; they are ideally placed to provide all logistics solutions.
Operations of Interlink Express, based at Bristol, had been expanding at an increasingly fast pace and had reached the point where it was no longer possible for them to function with the normal paper based systems for their payroll needs. Interlink Express realised that they needed a system that was easy to implement and flexible enough to received at a from more than one location. Furthermore, the system needed to be able to track and record employee time and attendance in an accurate manner.
After considerable research, they settled on the uAttend employee time tracking system marketed by Access-to-Time in the UK. The uAttend systems presented the ideal solution for all of their payroll needs such as single and multi-site data collection, ease of implementation, and the universal access. In addition to the coverage of hourly employees, the uAttend system also provided valuable information about the worked hours of salaried employees.
While discussing the resounding success of the uAttend time tracking software, Rodney Tanton, managing director of Interlink Express Bristol, had this to say, "The fingerprint units were very keenly prices and the lifetime warranty and support that comes with the system gives me peace of mind as everything is covered, even hardware. In addition to the cost-effectiveness, the features of the system are also highly satisfying. Now we can track how many hours are worked in each part of our company, whether the staff are hourly paid or salaried."
The uAttend workforce management system has been a front runner in the UK time and attendance solutions market for quite a while now thanks to their cost-effectiveness, ease of access, and effortless implementation. Today, a huge number of UK small and medium sized businesses enjoy streamlined payroll operations and augmented efficiency and productivity after switching to uAttend timekeeping software systems.
uAttend employee management systems are extremely low-commitment and totally risk free. A UK business doesn't need to enter into any long term contracts to implement these advanced systems. In addition, its monthly subscription plans are the most flexible and affordable in the UK.
Access-to-Time, based in Somerset, helps businesses and organisations to save time and money by efficiently managing their workforces' attendance using powerful Time and Attendance (T&A) systems. The company is working to change the way we do T&A.
Access-to-Time provides computerised T&A systems plus expert advice and reliable on-going support to employers from all types of businesses and organisations who are managing 5 to 5000 plus employees. Its clients enjoy stress-free monitoring of working hours and absences, time-savings and reduced payroll costs, with savings of at least 2 per cent of payroll being demonstrated when a T&A system has been implemented.
For further information please contact:
Jacqui Southway
Crackerjac PR
Tel: 01454 201869 / 07747 804703
Alastair Slade
uAttend/Access-to-Time
Tel: 01761 410015 / 07714 898902