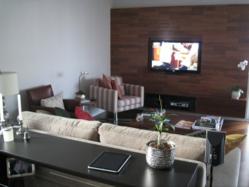 I wish we would have had this option when we arrived for our temporary housing in Sao Paulo.
Sao Paulo, Brazil (PRWEB) February 22, 2013
Global HR News, a leading independent management consulting firm that specializes in the Global Human Resources and Mobility industries, regularly holds conferences around the world designed to help connect and educate leaders within the respective industries.
The theme of this conference is "Managing Globally Mobile Talent for Competitive Gain" and is designed to be a strategic collaboration for the attending participant leaders with subjects that range from compensation, benefits, talent strategy, mobility issues planning, and more. This is a perfect venue for Avenida Suites Brazil to share its vision of redefining the experience of temporary housing in Sao Paulo.
With the leadership of various local and international companies present in a small, relaxed setting, Avenida Suites Brazil will have the opportunity to communicate one-on-one with these companies and their decision makers about how it is changing the paradigm for temporary housing in Sao Paulo and across Brazil by offering full size, independent apartments that include all furniture, house goods, appliances, and more for one simple all-inclusive price.
Avenida Suites Brazil's inventory of furnished apartments ranges from studios that contain their own laundry areas, to four bedroom apartments in various locations around Sao Paulo and other cities of Brazil. Unlike what has typically been available in the temporary housing market in Sao Paulo, the majority of Avenida Suites Brazil's furnished apartments are not located within Apart-Hotels. This provides a much more relaxing environment for the relocating employee or family and helps the transition to the new environment and culture occur more naturally by introducing them into an environment that contains high levels of security without the hotel like atmosphere.
"Avenida Suites Brazil is very pleased to be in a position to sponsor this conference and we feel that it will benefit those in attendance to learn about our new approach to temporary housing in Sao Paulo and across Brazil," says Claudia Gorman, Avenida Suites Brazil's Vice-President of Operations. "We know first- hand how stressful and expensive the traditional Apart-Hotel temporary housing experience is as we lived it ourselves when we relocated to Sao Paulo to build our foundation. We want others to know that we have a solution to these problems that is cost effective and provides so many other intangible benefits. I wish we would have had this option when we arrived in Sao Paulo."
The conference begins the evening of the 26th with a small reception dinner and then kicks off full force the next morning with coffee at 0730. The conference ends at 1700 with the moderator's closing remarks. There are several influential industry leaders scheduled to speak throughout the day and there are short networking breaks along with a lunch scheduled mid-day.
About Avenida Suites Brazil
Avenida Suites Brazil is a rapidly growing provider of corporate housing and serviced apartments with head-quarters in Tampa, Florida and Sao Paulo, Brazil. Each temporary home within the portfolio is carefully chosen for its location, size, condition, amenities, and many other factors. Beyond offering the right place to stay, Avenida systematically manages each phase of the temporary housing process to ensure it is simple, responsive and flawless across every market served. Avenida's temporary housing is available for stays of 30 days or longer. For more information on how Avenida Suites Brazil may be able to help you or your company with temporary housing or serviced apartment needs in the United States or Brazil call 1-888-553-9943 for U.S needs or 55-11-3958-8733 for Brazil or visit the website at http://www.avenidasuitesbrazil.com.