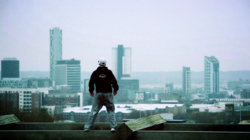 I just wanted to create something that looked cool, and something that I wouldn't mind watching myself.
Liverpool, United Kingdom (PRWEB UK) 22 February 2013
Automotive content creation specialists MotorTorque have released a stunning video advertising campaign featuring freerunners performing with a new Peugeot 208 in Liverpool City Centre.
MotorTorque's specialist video team recently managed to get their hands on a brand new Peugeot 208, and arranged for a team of street performers to work their magic in and around the vehicle.
WATCH THE VIDEO ON MOTORTORQUE HERE.
The MotorTorque video crew teamed up with local Airborn Academy of Parkour, Freerunning and Urban Arts, filming the stunt on their specialist video equipment including a Canon EOS 5D DSLR camera.
Set against an early-morning misty backdrop of Liverpool city centre, the freerunners combine their athletic skills in a dance presentation with the new Peugeot 208, heavily underlining MotorTorque's creative and cool philosophy.
Producer Kris McDonald says: "I just wanted to create something that looked cool, and something that I wouldn't mind watching myself.
"After receiving the Peugeot 208 for one of our standard reviews, we started to look at its target audience, which are young buyers. We also looked at the car's attitude and its 'Let your body drive' mentally, which runs alongside Peugeot's Motion and Emotion slogan.
"So, with that in mind we thought why don't we do something a bit fun and different – and that's where the free runners come into it.
"The quote that is played over the top of the video is also important to conveying the cool endless possibilities type of vibe that 'Let your body Drive' is all about. But I am not going to give away who the quote is from, that is for you to find out."
Online automotive website MotorTorque releases two video reviews on a weekly basis, using the latest video equipment to provide in-depth assessments of the latest models to hit the market.
Viewers can watch MotorTorque's brand new weekly video reviews before anyone else on the MotorTorque YouTube channel every Wednesday and Friday morning.
MotorTorque also provides a weekly round-up of the most amazing automotive viral videos being shared across the web. Around the Web goes live every Monday, and can be viewed exclusively through MotorTorque's Facebook channel.
Ryan Doyle from the Airborn Academy of Parkour, Freerunning and Urban Arts features in the video. Ryan is one of the founding athletes of the World Freerunning and Parkour Federation, is two-time winner of the Red Bull Art of Motion freerunning competition.
Ryan Doyle is also officially sponsored by Red Bull energy drink.
About MotorTorque.com:
Since 2006 MotorTorque.com has been providing car enthusiasts with exclusive car news, reviews, ratings, features and video content related to the auto industry. MotorTorque.com can also provide new car buyers with the best quotes, test drives and brochures for new models from the world's leading car manufacturers.
About The Auto Network:
Formed in 2002, The Auto Network is the UK's leading automotive marketing agency, specialising on lead generation and digital marketing. In the decade since its inception, The Auto Network has delivered thousands of sales, test drives and brochure request leads each month to manufacturers, dealers and the leasing industry. Clients include Vauxhall, Honda, Perrys, Seat and more.