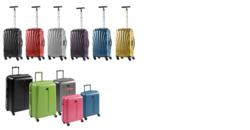 They are also cases created by two of the top manufacturing leaders in the luggage industry.
Kent (PRWEB UK) 25 February 2013
The Metro newspaper, both on its online link and its hard copy recently ran an article featuring 10 of the top best pieces of stylist luggage. The Samsonite Cosmolite and the Delsey Helium were rated as two out of the ten stylish suitcases and they both are linked to Luggage Superstore's online store where they can be purchased.
These two brands of suitcases are extremely stylish and fashionable. The cases are created by two of the top manufacturing leaders in the luggage industry.
The Samsonite Cosmolite's unique design is inspired by nature.Because of this case's technology, Samsonite won the RedDot Design Award "Best of the Best 2010"; the largest, most highly acclaimed and toughest design competition in the world. This case is made with the Curv technology. The stylish case is renowned for its unique shape, its great strength and lightness combined.
The Delsey Helium is loved for its unusual looks and its extremely tough looking exterior which is known to last for many journeys and years. Mostly the case lives up to its name "Helium" by being one of Delsey's lightest hard sided cases. The colours in the Helium range come from a classic Black right up to bold colours for the individual minded traveller. These cases are so easily spotted on the luggage belt at the airport.
Both the Samsonite Cosmolite and the Delsey Helium make good looking travelling companions for any journey with any lucky traveller.
Luggage Superstore's established site is in West Kingsdown, Kent. Their aim is providing competitive prices of the highest quality luggage and top calibre Customer Service for online luggage shopping. Luggage Superstore recommends Samsonite Suitcases.
Trina Chee-a-kwai
Luggage Superstore
01474854666
Email Information