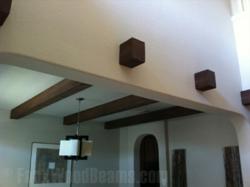 Rough sawn's look with greater convenience
Deer Park, NY (PRWEB) February 26, 2013
FauxWoodBeams.com expands its line of arched and custom-sized fake beams with the addition of rough sawn. Now decorators, architects and home owners have even more options.
"People love our custom beams because thanks to the various combinations, they can get a completely unique look. Adding rough sawn texture gives them even more choices," said Steve Barron, president of FauxWoodBeams.com.
Genuine rough sawn lumber can be difficult to handle. "Rough sawn" refers to lumber that is sold before it is dried and planed. That lowers the cost in comparison to finished real wood beams and gives consumers more control, but because it's still green, shrinkage is inevitable. If a real rough sawn beam is installed too soon or handled incorrectly, the mistake can be very costly.
Faux rough sawn beams have none of those drawbacks – only benefits. Shrinkage is impossible as is termite infestation. Customers get the gorgeous rough sawn texture without the extra work or risk of making a mistake. Because it's made from molds of genuine rough sawn beams, the texture feels completely authentic.
Faux wood beams provide a nearly endless supply of design options. Custom and arched rough sawn beams allow architects and homeowners to create virtually any design desired. These fake beams are available with three sides or four, fire rated or not, and with or without end caps. With 17 width options, 17 heights, two lengths and two different arch sizes, a tremendous number of combinations can be created.
Four color choices expand options even more. Walnut stain is a classic that goes with virtually everything. Oak is lighter and perfect for more airy designs. Cedar's warm tones add a richness to any room. For ultimate flexibility, unfinished fake beams are also available so you can custom stain, paint or faux finish it.
Even better, faux wood beams are virtually impervious to weather and do not attract pests like termites. Because they're much easier to install than solid wood beams, installation costs are lower as well and some homeowners can do them as a DIY project.
"Our custom beams always do extremely well. Since this addition provides the beauty of rough sawn texture without any of the drawbacks, it will be a clear winner," said Barron.
FauxWoodBeams.com leads the field of polyurethane wood beam products, ceiling panels and architectural items. Its products have been regularly featured on television shows such as "Brothers on Call," "Celebrity Apprentice," and numerous appearances on "Extreme Makeover: Home Edition." FauxWoodBeams.com is a subsidiary of Barron Designs, Inc., a family-owned home improvement business operating since 1972. For more information, visit FauxWoodBeams.com