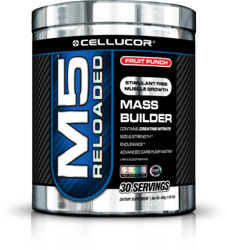 Cellucor is the brand of constant innovation. We've never been afraid to make small improvements and update our products.
Houston, TX (PRWEB) February 21, 2013
Amidst week's of buzz on Facebook and Twitter, Cellucor is finally ready to officially announce the brand's first major launch of 2013, M5 Reloaded. M5 Reloaded is an upgrade to the existing M5 Extreme, a product that has gained a stern following as a premium product for muscle and strength gains.
"Cellucor is the brand of constant innovation. We've never been afraid to make small improvements and update our products. Much like auto manufacturers and cell phones, technologies evolve, and we believe we'd be doing our fans a disservice if we didn't incorporate all we've learned in the past two years into our product" commented Cellucor VP Daniel Lourenco.
The new M5 Reloaded, in signature M5 style, is a comprehensive mass builder that features Creatine Nitrate, Creatine Magnapower® and a clinical dose of Betaine to support size and strength gains. M5 Reloaded is completely stimulant-free, making the product an ultra versatile pre, post, or intra workout addition to any supplement regimen. The product sports a re-engineered, best-in-class flavor system that has beta testers comparing the flavor to Cellucor's top-selling pre-workout, C4 Extreme, known by many as the best tasting pre-workout ever.
"We're proud to be the 'flavor guys'" said Lourenco. "Whether its C4, or our new COR-Performance Whey proteins, and now the new M5, our attention to detail especially with our flavors is unmatched. We're proud to not only build the most effective supplements, but also the best tasting—that's Cellucor."
Although the Reloaded moniker may simply refer to the next generation of the product, fans are applauding Cellucor's decision to "reload" the M5 formula with an advanced carbohydrate and "carb pump" matrix anchored by cyclic dextrins (known for their effectiveness and versatility) and a proprietary herbal blend that supports glycogen transport so users can "feel their carbs working."
"I can't comment if there are more 'Reloaded' products' in the pipeline," said Lourenco. "All I can promise is that our imaginations are always working, and we have a lot of BIG things in store for Cellucor Nation (the brand's loyal following) this year."
Cellucor is a safe and effective supplement brand known for its premier weight loss and sports nutrition product offerings. Cellucor products can be found at GNC, Bodybuilding.com, Vitamin Shoppe and select retailers internationally. For more information on M5 Reloaded and other Cellucor products, visit Cellucor.com or connect with the company on Facebook or Twitter.