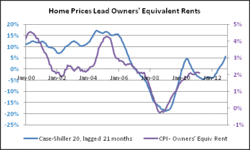 Data on housing...point unambiguously to a future acceleration in...core inflation.
Morristown, NJ (PRWEB) February 21, 2013
Forecasters were surprised today by the +0.251% rise in the core Consumer Price Index (CPI), but if the inflation specialists at Enduring Investments are correct they will need to get used to upside surprises.
The Bureau of Labor Statistics (BLS) today reported that headline inflation was flat in January for a second consecutive month, while core inflation (which is more important for forecasters and policymakers) increased a larger-than-expected +0.251%. Forecasters had expected a monthly change in the +0.17% range to push the year-on-year rise downward; instead, year/year core inflation rose to 1.92% from 1.89%.
What is interesting, according to Enduring Investments, about the figure is that the small rise in core inflation occurred without an acceleration in housing inflation. Michael Ashton, Managing Principal at Enduring Investments, said "The real upside risk to inflation in the next year comes from the recent rise in housing prices. Data on housing - median sales prices of both existing and new homes, sharp rises in the FHA's Home Price Index and the Case-Shiller index, and increases in rental surveys such as those from REIS and CB Richard Ellis - point unambiguously to a future acceleration in primary rents and Owners' Equivalent Rent, and therefore core inflation.
"Those components represent a large chunk of the typical consumer's expenditure, but the CPI series don't yet reflect the recent rise in those markets. When they do, core inflation will rise - and we expect core to be pressing close to 3% by year-end."
Among CPI major groups, an acceleration in the year/year rate of inflation was observed in Housing, Apparel, Education/Communication, and Other (cumulatively, 55% of the consumption basket) while Food & Beverages, Transportation, Medical Care, and Recreation decelerated (45%). But within Transportation, the drag was almost entirely from motor fuel: the indices for new and used cars, auto maintenance, auto insurance, airfares, and inter- and intra-city transportation all accelerated.
"In other words," said Ashton, "any good news in inflation right now is coming almost entirely from energy. But that too will change, as retail gasoline prices have now risen for 35 consecutive days."
Enduring Investments is a specialty investment management firm with a focus on inflation and inflation markets. We are available to discuss today's CPI release and other inflation and macroeconomic questions.