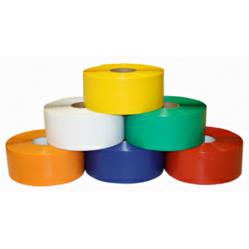 This is a great product and easy to use. It withstands more than standard vinyl floor tape. – Jennifer Molski, Manager Customer Care 5S Supply
Frankfort, IL (PRWEB) February 23, 2013
5S Supply is pleased to announce that it carries the full line of Superior Mark floor marking products. Superior Mark brand floor marking tape is the thinnest, toughest, and most consistent floor tape on the market. This industrial floor tape is thin enough (.035") to prevent many trip hazards but withstands traffic from the busiest facilities. Superior Mark is designed to eliminate common factory maintenance problems such as painting and replacing vinyl tape, which require excessive installation time. This tape installs quickly and easily with minimal personnel and equipment. Its patent pending design features beveled edges and a recessed adhesive system, making it considerably more durable than other floor tapes on the market. Superior Mark is to easy remove when ready to allow for changes in facility layout without damage to the floor or excessive labor.
The Superior Mark Floor Tape rolls are 100 feet long and come in two widths (2 inch and 4 inch) and several of the standard colors: red, orange, yellow, green, blue, black (2" Only), white and clear. There is also hazard stripe floor tape in black-yellow, black-white, red-white and green-white. There are also many styles of floor marking accessories including L-shapes (corners), Ts, Xs and dots. These accessories are specially designed with notches to quickly and conveniently put them together. These also can be combined to effective mark off positions on the floor of equipment, pallets, standard stock and so on. Installation is a snap; just clean your floor, mark the area, peal the backing and apply the tape, tamp down with a heavy weight for best adhesion.
Stop by http://www.5Ssupply.com for more information on how to apply lean principles to improve any workplace. Contact 5S Supply at 888 4 LEAN 5S (888-453-2657) or info(at)5Ssupply(dot)com. 5S Supply is the premier provider of Lean supplies, training and services.