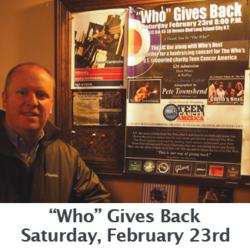 The Who generously donated a new sound system to LIC Bar after Hurricane Sandy, now LICBar is paying it forward by holding a Charity Concerty with "Who's Next". All proceeds go to Teen Cancer America!
New York, NY (PRWEB) February 21, 2013
LIC Bar, a popular Queens, New York venue, was hit hard by Hurricane Sandy, after flooding in its basement destroyed all of the bar's sound equipment. But the Long Island City bar has been able to bounce back, thanks to a generous donation from The Who. After being contacted by an LIC patron about its plight, the rock super group donated some $3,000 worth of sound equipment, including amps, mic stands, and microphones, to the bar. Now that LIC Bar is up and running again, owner Brian Porter is hoping to repay The Who's generosity by hosting a benefit concert this Saturday for Teen Cancer America, a charity founded by The Who. Check out the NY Daily News article here "LIC Bar in Queens returns the favor from The Who!"
"My goal at LIC Bar is to keep the music alive," says Mr. Porter. "After losing our sound equipment to Hurricane Sandy, one of our patrons, Robert Basch, made some calls and the next thing we knew, The Who was graciously sending us a new sound system. Now the music can stay alive at LIC Bar and to show our gratitude we are holding this benefit to give back."
During Hurricane Sandy, LIC Bar was inundated with 8 feet of water in the basement, where all of the establishment's sound equipment was stored. Without The Who's help, it's doubtful LIC Bar would have been able to reopen so quickly.
"Hurricane Sandy ripped the club apart but couldn't tear the heart out," Simon Townshend, brother of The Who guitarist Pete Townsend, told the Daily News. "Obviously the story deeply affected us. After all, where would we be without these clubs and music lovers that give so much and often receive so little?"
http://www.nydailynews.com/new-york/queens/lic-bar-queens-returns-favor-article-1.1269032
Teen Cancer America, which was launched in 2011, is dedicated to raising awareness about teen cancer and improving the the lives of young adults with the disease. Saturday's concert, featuring a performance by Who's Next, a Who tribute band, will be held from 8 p.m. to 11 p.m. in a tent outside of LIC Bar, located at 45-58 Vernon Blvd. in Long Island City. Tickets cost $20 each, with all proceeds going to Teen Cancer America. Concert attendees will also have a chance to win a guitar autographed by Pete Townsend and other great prizes, according to Mr. Porter.
About LIC Bar
LIC Bar is a classic New York City watering hole in the hottest neighborhood in Queens. Only one subway stop from Manhattan, LIC Bar is an oasis of authentic New York in the midst of gleaming new condo towers and a fantastic Manhattan view. LIC Bar features live music on Saturday, Sunday, Monday and Wednesday nights, and DJ music every Friday. A full rundown of events can be found at the LIC Bar website.
Contact:
LIC Bar
Brian Porter
45-58 Vernon Blvd.
Long Island City, NY 11101
Phone: 718-786-5400