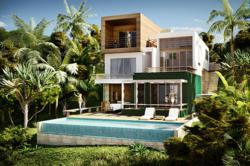 Land plots are only available for a limited time; reservations need to be made now to secure the introductory prices.
Poole, UK (PRWEB UK) 22 February 2013
Select Resorts is pleased to introduce the fantastic investment opportunity - Rio Hills Resort, Rio de Janeiro, Brazil. Known world-wide for the carnivals, miles of white sandy beaches, vibrant city life and of course the forthcoming FIFA World Cup (2014) and Olympic Games (2016), Brazil is the place everyone wants to invest. Welcome to Rio de Janeiro, Brazil – currently one of the hottest real estate investment locations on the planet.
With buoyant year round tourism, a stable economy and lower interest rates, the Financial Times has stated Brazil is a safe investment destination that is unlikely to falter. As such, a growing number of investors are attracted to the Brazil property & land market.
Located in the picturesque lakes region of Rio de Janeiro, Rio Hills Resort is less than 60km from downtown Rio and the International Airport. It's also less than 5km from the planned R$5.4bn "Megaport", but benefits from the true beauty and serenity of the Brazilian country including mountain, lake and sea views.
The exclusive resort will offer savvy investors the chance to capitalise on the current growth and development of Brazil – at a time when property is in high demand and the economy is booming. Located in the regional powerhouse of the Brazilian economy, this award winning development offers the opportunity to purchase land plots with stunning views at below market value prices as well as benefitting from the development of 5* resort infrastructure and facilities.
The gated resort, located frontline to the stunning Guarapina Lake will boast a vibrant 5* boutique hotel with restaurants, bars, retail shops and mini-markets, a luxury spa & fitness centre, private beach and a private members club – including tennis courts, pool, bar and restaurant. The resort will also feature 24-hour security alongside CCTV monitoring and keyless entry – ensuring maximum safety and exclusivity within the grounds.
Land plots are only available for a limited time; therefore reservations need to be made now to secure the introductory prices.
There are many benefits to investing in Rio Hills, Brazil. Select Resorts Managing Director Pauline Bonanni is pleased to boast the addition of this investment to the company portfolio:
"We have been approached by a number of developers working in Brazil, as the property market is booming. Rio Hills was deemed to be a genuinely brilliant opportunity boasting a number of impressive benefits, which is why we have decided to add it to the portfolio. Full due diligence has been undertaken on the project to ensure peace of mind and security when it comes to investing – so we're confident we have one of the best products available in such a competitive marketplace."
With entry level investments from US$56,000 Rio Hills is a brilliant opportunity to invest in, one of the most exciting real estate locations in the world.
The Rio Hills investment opportunity is not only affordable, but one that will prove to be extremely profitable too. Capital appreciation is at 20% and a large number of executives are looking to move to the area to benefit from the slower pace of life on offer, further increasing demand for the properties.
The Brazilian developer, Ensada Das Flores, with backing from Middle Eastern investors, has a proven track record in property development and emerging markets and is working in conjunction with globally renowned architects De Fournier & Associados to create a visually stunning resort. Investors have the choice to build luxury villas on their land plots and with a choice of approved villa designs and low construction costs, the process is made extraordinarily simple.
Interested in finding out more about this opportunity? Select Resorts has written a comprehensive investment overview brochure that can be downloaded for free from their website. It provides more in depth information about investing in Brazil, Rio de Janeiro and the Rio Hills Resort.
Anyone looking to invest funds into property or land abroad should contact Select Resorts. The dedicated and passionate team will offer the service one would expect from a company giving expert advice on a vast range of international property areas to assist in reaching more profound decisions on purchasing overseas property. These investment specialists offer in-depth knowledge and experience to meet the needs of overseas property and land investors.
Email: sales(at)selectresorts(dot)co(dot)uk
Tel: + 44 1202 765011
Fax: + 44 1202 763615
Select Resorts Ltd.
1st Floor, 1 Old Generator House
Bourne Valley Road
Poole
Dorset, BH12 1DZ