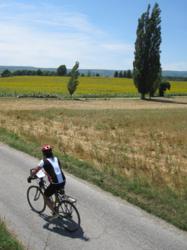 "Provence is the type of region you want to return to again and again."
Toronto, ON (PRWEB) February 22, 2013
Butterfield & Robinson (B&R), a world leader in luxury travel, has introduced even more ways to explore Provence. Bike through secluded olive groves and endless vineyards with their new Provence Self-Guided Biking trip. After the successful introduction of the self-guided concept in Burgundy and Tuscany, B&R has seen an increased demand for this type of trip from the type of biker who feels confident on their own. It's perfect for bikers who would like their hotels booked, their luggage moved and their bike routes with restaurant suggestions and cultural highlights included – but want the freedom to bike without a guide.
The introduction of Provence Self-Guided Biking adds to B&R's wealth of options in Provence. For decades, B&R has been biking and walking in Provence. They arrange unique insider experiences through their local contacts. Provence Biking strays outside the region's tourist hotspots to show off hidden gems. For those who prefer two feet over two wheels, Provence Walking offers walks through quiet olive groves and remote vineyards that end with remarkable wine tasting experience. B&R's Provence Bistro Biking delivers on views of the open spaces of the Vaucluse and dramatic Les Baux. Bistro trips offer more unaccompanied meals and include hotels likely to be stylish four-stars instead of off-the-chart.
"Provence is the type of region you want to return to again and again. The Butterfield & Robinson motto of 'slowing down to see the world" is embodied in the slow pace of life in Provence," says B&R Trip Planner, Marya Dumont.
Butterfield & Robinson's private itineraries to Provence allow travelers to choose their own dates and traveling companions and design their own customized experience.
For more information on these trips, check out http://www.butterfield.com.