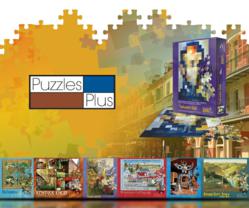 Puzzles are a playful and interactive way to increase brand awareness, promote a new product or thank a customer for their business.
Jacksonville, FL (PRWEB) February 26, 2013
Businesses are always trying to find interesting ways to engage with customers, clients and employees. Successfully launching a new product, opening a new office, commemorating an event, or offering incentives to customers and employees requires unique and memorable promotional materials in order to create a serious buzz. That's why Puzzles Plus founder, Jackie Goldman, is offering businesses and organizations a creative way to diversify their marketing materials.
Puzzles are a playful and interactive way to increase brand awareness, promote a new product or thank a customer for their business. In addition to being promotional tools, puzzles can also make fund raising a more playful experience. Since puzzles are known to increase concentration and foster problem solving abilities, they are ideal fund raising tools for schools, museums and libraries.
According to Goldman, "in the past it was cost prohibitive for many companies and organizations to have custom puzzles made in the USA. They were forced to turn to other countries. At Puzzles Plus, we now offer reasonably priced high quality puzzles for our clients."
Puzzles Plus provides a variety of flexible options to fit most budgets. Their newly sized 10" x 13" promotional puzzles can be made in 24, 60 or 100 piece formats and packaged with or without custom printed 6" square boxes. Puzzle customers have the option to mix and match piece counts within their order, or use more than one piece of artwork to create a collectable series of fun promotional puzzles.
"My goal when developing this product," says Goldman, "was to give my customers a high degree of flexibility while offering an affordable American made product."
Puzzles-Plus.com also creates high quality puzzles in a variety of formats for national museums and organizations. Their award winning products have been recognized in the national media, and links to many of the custom jigsaw puzzles can be found on their website.
About Puzzles-Plus.com
Puzzles Plus began in 1989. Owner Jackie Haber-Goldman's focus is on meeting the educational and cultural art needs of children and adults. This woman owned business has grown into a full service organization offering a multitude of products including custom puzzles, wholesale puzzles, retail puzzles, which include 24 piece designs for children and senior adults, as well as post cards and other custom specialty items. Puzzles Plus has developed products for national museums, corporations, hotels and resorts, gift shops, stationery retail stores, and childcare centers.