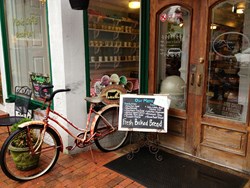 Atlanta, Georgia (PRWEB) February 21, 2013
BLUE RIDGE MOUNTAINS - ALMOST HEAVEN
Named for its bluish color seen at distance, the Blue Ridge Mountains stretch from northern Georgia into Pennsylvania. The elevation in northern Georgia reaches as high as 4,700 feet at Brasstown Bald. Although the elevation in Dahlonega is only 1,454 feet, elevations begin to climb within 10 miles as you enter the Cohutta National Forest. Scenic state parks in the Blue Ridge Mountains of Georgia include Black Rock Mountain State Park, Tallulah Gorge and Amicaola State Park, home of the tallest waterfall east of the Mississippi. Amicaola Falls State Park is less than 20 miles from the heart of downtown Dahlonega, to us a best small town in Georgia.
SMALL TOWN CHARM
America's first gold rush town hasn't changed much from the early 1800's and folks in Dahlonega plan to keep it that way. The Dahlonega Gold Museum sits in the middle of the town's square surrounded by ice cream parlors, candy stores, bakeries and one of a kind boutiques. The preserved historic buildings are fascinating and reflect the wild wild west, a time when the land was dominated by the Cherokee Indians. Holly Theatre built in 1915 is home to Georgia's top performing theatre companies. This art infused town is where you'll also find bluegrass musicians playing impromptu in the middle of the town square. Dahlonega is one of the coolest best small towns in Georgia, especially if you dig history.
LOW COST OF LIVING - RECIPE FOR A HAPPY RETIREMENT
Dahlonega homes average $127,000. That's almost half the average price of a home in the Northeast. Of the 28 best cities to live featured on our website, real estate taxes in Dahlonega are among the cheapest at 27.60 mills converted equalling to .011 percent, if you live within the city limits. Folks searching for where to retire are finding Georgia more attractive as a retirement state because Georgia is phasing out state income tax on retirement benefits. In addition to saving money on taxes and Dahlonega homes, many things cost less in Dahlonega such as dining out and business services.
BEST GEORGIA VINEYARDS - ITS ALWAYS FIVE O'CLOCK HERE
There are active 11 wineries in northern Georgia:
Wolf Mountain Vineyards
Montaluce Vineyards
Habersham Winery
Tiger Mountain Vineyards
Frogtown Cellars
Sautee Nachoochee Vineyards
Cavender Creek Vineyards
Persimmon Vineyards
Yonah Mountain Vineyards
Three Sisters Vineyards
AUTHENTIC MOUNTAIN FESTIVALS
This best small town in Georgia knows how throw a party. Popular Dahlonega festivals include the Dahlonega Trail Fest in March which kicks off the mountain hiking season, the Bear of the Square Music Festival in April, Mountain Flower Art Festival in May, Georgia Wine Festival in June and Gold Rush Days in October. Dahlonega Georgia is best known as home to the beginning and finish line of the Six Gap Century and Three Gap Fifty Cycling event, a 104 mile and 58 mile cycling event through the mountains of northern Georgia. More than 3,000 cyclists attend each year challenging the 11,200 foot vertical fluctuations.
NORTH GEORGIA PREMIUM OUTLET MALL
To have brand name shopping within 20 minutes of a best small town is unusual. North Georgia Premium Outlet Mall is an impressive mall with 140 stores, home to stores such as Coach, Williams-Sonoma, Pottery Barn, Ann Taylor and Ralph Lauren. If you can't find what you're looking for at the Northern Georgia Premium Outlet Mall or in the best small town of Dahlonega, the metropolitan city of Atlanta is less than an hour's drive to the south.
LAKE SIDNEY LANIER
Just 10 miles south of Dahlonega, Georgia's most visited lake is 38,000 acre Lake Sidney Lanier. With 692 miles of shoreline, this emerald green Georgia lake is dotted with islands and was home to the 1996 Summer Olympics. For the most part, Lake Sidney Lanier is not visible from the roadway hidden by trees, so you might miss it driving by. If you want to live in the mountains and still boat, Lake Sidney Lanier is a great option.
DELICIOUS FOUR SEASON WEATHER
Located at the foothills of the Blue Ridge Mountains, Dahlonega Georgia experiences only 3 inches of snowfall each year. The average temperature December through February is in the 30's. May through September, the average temperature ranges from the high 60's to mid 70's. The seasons are mild yet are conducive to beautiful spring flowers and vibrant fall foliage.
BRAIN FITNESS FOR THE YOUNG AT HEART
Baby Boomers seeking fun college courses to keep their mind sharp will find a long list of college courses designed just for them at the Brenau University Lifelong Learning Institute (BULLI) in Gainesville, 20 miles south of Dahlonega. In addition to the college's regular curriculum, this historic campus offers courses specifically designed for mature adults over age 50. Lifelong learning courses include studies in music, the arts, social sciences, history and wellness.
TRUSTED MEDICAL CARE
Chestatee Regional Hospital in Dahlonega is a 49 bed private room acute care facility. Specialties include emergency care, surgical services, imaging, diagnostics and pain management. CRH underwent renovations in 2007 which include a new Maternity Services Unit.  But on a larger scale, 557 bed Northeast Georgia Medical Center in Gainesville was named one of the Top 100 Hospitals by Thompson Reuters and is Georgia's #1 Heart Hospital, just 20 miles south of Dahlonega. And if Northeast Georgia Medical Center can't handle your medical issue, there are dozens of top rated hospitals in Atlanta, one hour to the south.
About Real Estate Scorecard
Real Estate Scorecard writes unbiased real estate reviews providing in depth information about the best master planned communities in Florida, Georgia, North Carolina, South Carolina and Tennessee, all in an effort to help people discover where to retire. Website address: http://realestatescorecard.com