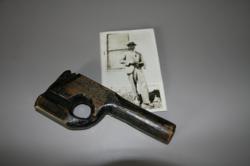 Hammond, Indiana (PRWEB) February 21, 2013
Explore the life and times of John Dillinger and his gang at the Indiana Welcome Center from 10 a.m. until 4 p.m. on Saturday, March 2. Throughout the day, visitors may enter the John Dillinger Museum for free and watch the "wooden gun" clip from Mysteries at the Museum. The real wooden gun used in Dillinger's escape from the Crown Point jail, as well as, the Tommy guns used in the Dillinger robberies will be on display throughout the day.
The clip from Mysteries at the Museum features the history behind the infamous wooden gun. Visitors may watch the clip inside the In-Vision Theatre every half hour during the event.
The Lake County and Porter County Sheriffs' Departments will be on hand with the tommy guns used in some of Dillinger's robberies. Sheriff's deputies will also be available to answer questions about their careers and how the criminal justice field has advanced over time.
For more information on the event, or on the John Dillinger Museum, visit http://www.southshorecva.com.
Contact: Nicki Mackowski, Director of Public Relations
South Shore CVA, 219-989-7770
###